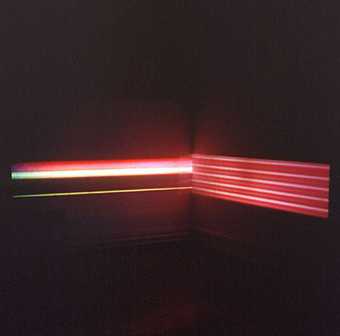 Tina Keane, a pioneer in the use of electronic media in the visual arts, first conceived Transposition as a performance for the Museum of Modern Art, Vienna in 1992. Exploring the concept of using the human body as a screen, Keane projected video images on to the naked backs of men as they glide sideways standing on a travelator. Following this performance, and in keeping with an enduring theme of Tina Keane's output to rework a concept across a spectrum of formats, Keane re-edited the piece to make a double screen video installation. Capturing rushes of landscapes, at times reduced to abstract light and colour, the movement of freight trains, rats crawling over piles of rubbish, and a hazy audio track with voices, electronic beeps and chords, Keane's Transposition forms an abstract montage of movement, light and decay.
The double screen video installation is presented in The Tanks throughout the day from 11.00–17.00 with the original live performance at 14.00.
Tina Keane (born 1948) has exhibited widely both nationally and internationally and was Artist in Residence at various institutions including the Banff Centre in Canada. She is a founder member of Circles - Women in Distribution and curator and programmer of exhibitions and screenings including The New Pluralism exhibition at Tate (with Michael O'Pray, 1985). She has won awards from the Arts Council, Channel 4, the British Council and London Production Board.
Keane has been a Visiting Lecturer at many colleges and universities throughout the UK and abroad, including Harvard University. Since 1982 she has been Lecturer in Film & Video at Central Saint Martins College of Art & Design, London, where she has also been Research Fellow since 2003.
Transposition is linked to the symposium Playing in the Shadows exploring the subterranean darkness of The Tanks and radical experiments in projection and performance.
Part of the series The Tanks: Art in Action
Other events related to the symposium