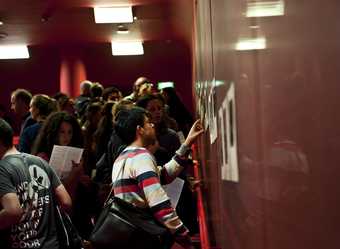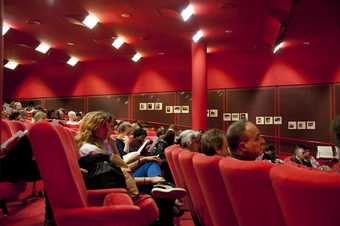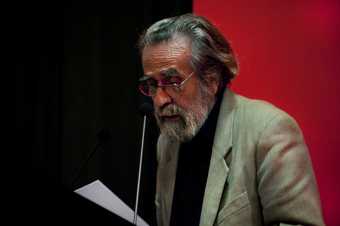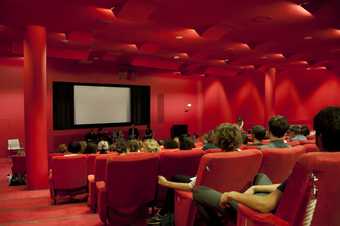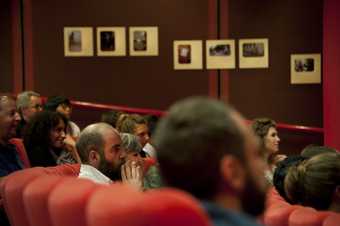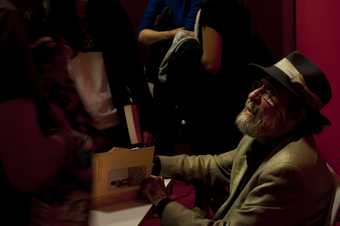 Tate is happy to present the last and eighth instalment of 18 Pictures and 18 Stories, with Isidoro Valcárcel Medina, Esther Ferrer and Dora Garcia.
For the first time in the project the artist Isidoro Valcárcel Medina will attend in person and present a new text, To be translated, created in response to the project about interpreting actions of history by the language of today. This will be followed by a conversation with the artists Esther Ferrer and Dora Garcia, fully translated into English and chaired by Catherine Wood, Curator (Contemporary Art & Performance), Tate Modern. The lecture and discussion will be accompanied by the 18 photographs on display in the auditorium.
Two years ago, If I Can't Dance invited Valcárcel Medina and Bilbao-based collaborative initiative Bulegoa z/b to partake in a comprehensive research project as part of their programme 'Performance in Residence'. With this programme, If I Can't Dance considers past performances in the light of current artistic practice. Valcárcel Medina responded to their invitation with Performance in Resistance, a series of 18 photographs which shift his past performances from their historical frame. In the photographs, he presents 18 different actions he performed in different cities between 1965 and 1993. Many of these actions were never documented. The new work thus addresses the frictions between the live moment and the document, past and present, fact and fiction.
For each occurrence, three guest speakers were invited to tell a story in response to one of Valcárcel Medina's new photographs. During the presentations, Valcárcel Medina was available on the phone for any question the audience or speaker might have had.
The stories have been collected in a publication that includes all the voices, interpretations, facts and fictions that have been told during the tour of 18 pictures and 18 stories, to be launched that same evening with a special book signing by Valcárcel Medina.
Biographies
Isidoro Valcárcel Medina
Isidoro Valcárcel Medina (Murcia, 1937) is an important representative of conceptual art in Spain, hardly known outside of Spanish speaking countries. His body of work includes performances, sound pieces, architectural projects, installations and books. From his early practice up to the present day, he has asserted a critical attitude towards both art institutions and the art market, developing instead situations and scenarios that allow him to engage in a more directly affective relation with his audience.
Bulegoa z/b
Bulegoa z/b is a collaborative initiative based in Bilbao, Spain. Its members, Beatriz Cavia, Miren Jaio, Isabel de Naveràn and Leire Vergara come from backgrounds in both visual arts and social theory. Their initiative, an 'office for art and knowledge' is created around a common interest in processes of historisation, cultural translation, performativity, the body, postcolonialism, social theory, archival strategies and education. Their varied professional backgrounds allow for a myriad of methodologies within their many projects. Bulegoa z/b has conceptualised the curatorial format for 18 pictures and 18 stories.
Past occurrences
26 February 2012: If I Can't Dance at Het Veem Theater, Amsterdam. Storytellers: Moosje Goosen, Esteban Pujals Gesalí, Emilio Moreno
20 April 2012: Bulegoa z/b, Bilbao. Storytellers: Jaime Vallaure, Azucena Vieites, José Díaz Cuyás
6 July 2012: Tàpies Foundation, Barcelona Storytellers: Nuria Enguita, Aimar Pérez-Galí, Manuel Martínez Ribas
27 October 2012: CAC Brétigny, Greater Paris. Storytellers: Esther Ferrer, Jon Mikel Euba, Pierre Bal-Blanc
6 November 2012: BNV Producciones, Seville. Storytellers: Pedro G. Romero, Isaías Griñolo, Miren Jaio
11 November 2012: Playground Festival, Leuven. Storytellers: Koen Brams, Dora García, Myriam Van Imschoot
29 November 2012 / Exhibition until 28 July 2013: MAC São Paulo. Storytellers: Juan Domínguez, Research team from MAC-USP, Carla Zaccagnini
Credits
18 Pictures and 18 Stories concept: Bulegoa z/b and Isidoro Valcárcel Medina
Commissioned and produced as part of Corpus, new collaborative network for commissioning performance-related work co-founded by If I Can't Dance, Amsterdam, Playground (STUK & M), Leuven and Tate Modern, London. With the support of the Culture Programme of the European Union.
BMW Tate Live is curated by Catherine Wood, Curator, Contemporary Art and Performance, Tate and Capucine Perrot, Assistant Curator, Tate Modern.