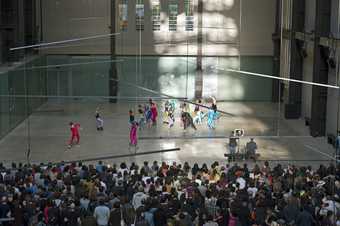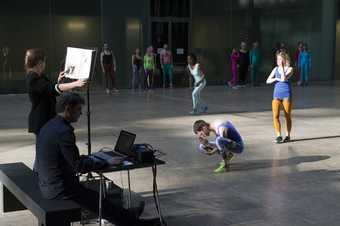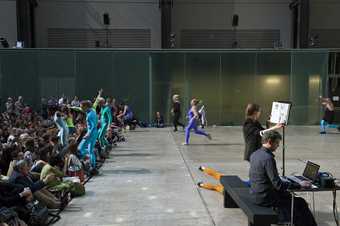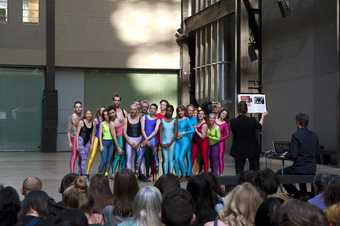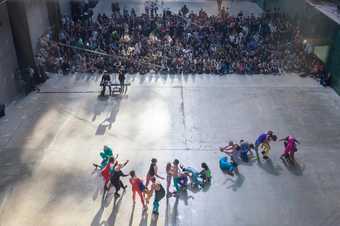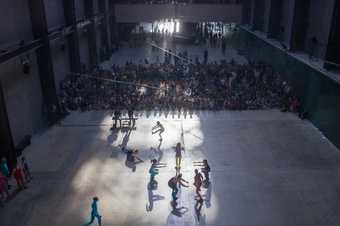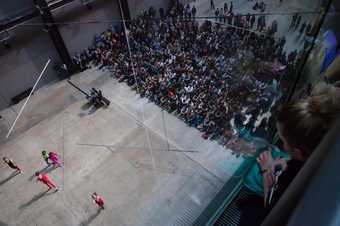 Taking David Vaughan's Merce Cunningham: Fifty Years (1997), which charts in pictures Merce Cunningham's choreography over 50 years, Boris Charmatz invited different groups of dancers – from ex-members of Cunningham's company, to amateur practitioners – to learn and perform Vaughan's images as a speeded-up version of Cunningham's language.
Three years after his performance of Flip Book at Tate Modern in The Tanks, the choreographer presents a new version with London based amateurs.
In Merce Cunningham: Fifty Years, all Cunningham is included: pictures from every piece, and Merce is portrayed from the age of five... when I read this book, it came to my mind that the collection of the pictures was not only about nearly all the projects that he did until now, but formed a choreography in itself close to Cunningham's processes to create dance: dance happens in between the postures, between two positions, and I guess we could invent a piece from this score of pictures, performed from beginning to end. On the one hand it would be a purely "fake Cunningham" piece, but on the other hand, I think if we succeed that it could become a real one, a real Cunningham piece, a Meta-Cunningham event with a glimpse of his entire life and work…

I consider this experience as an integral part of our research, of our specific interest for the issue of archive, history and scores, which could meet here its tumultuous dimension: the entire history of a life's work become book, transformed in its turn into a performance elaborated by a handful of dancers.
Boris Charmatz
Credits
Conception: Boris Charmatz
Adaptation by Olivia Grandville
Tate Modern co-ordination auditions and rehearsals: Stephanie Busson
Performed by: Sara Ayres, Jamie Atherton, Nigel Campbell, Caroline Evans, Pedro Faccio, Konstantinos Foskolos, Guy Grant, Stefan Jovanović, Hannah Kemp-Welch, Fábio Machado, Valerie McNulty, Marianne Moore, Fiontán Moran, Maryanne Ogbogbo, Gur Piepskovitz, Limore Racin, Jocelyn-Jane Taylor, Blanca Ulloa, Chiara Vascotto, Lara Voggensperger, Simon Wallace
Light: Yves Godin
Sound: Olivier Renouf
Duration 30 minutes
Production Musée de la danse / Centre chorégraphique national de Rennes et de Bretagne - Direction: Boris Charmatz. Association subventionnée par le Ministère de la Culture et de la Communication (Direction Régionale des Affaires Culturelles / Bretagne), la Ville de Rennes, le Conseil régional de Bretagne et le Conseil général d'Ille-et-Vilaine. Culturesfrance contribue régulièrement aux tournées internationales du Musée de la danse.
Thanks to LiFE (St Nazaire), HZT (Berlin), Centre de Développement Chorégraphique (Toulouse).