This premiere is a chance to view new work from some of the most intriguing artists working in performance, dance, and music now. This fresh and relevant material was performed live to camera in the empty tanks during lockdown.
Join artists Thomas Heyes, Ekin Bernay and Rowdy SS with special guest Rebecca Bellantoni, as they respond through movement, sound and spoken word. Their rich multi-sensory responses encourage us to consider what it means to be human and resilient.
Each artist explores ideas around identity, isolation, alienation, and human resilience amidst a pandemic. These themes thread through much of Bruce Nauman's work yet take on deeper resonance and relevance at this moment in time.
The performances are followed by reflections from the artists. We hope these Resilient Responses will encourage you to construct your own creative responses to the current reality, the specifics of space and your own identities. We will share a few highlights on our Instagram page.
This event is part of the Terra Foundation for American Art Series: New Perspectives.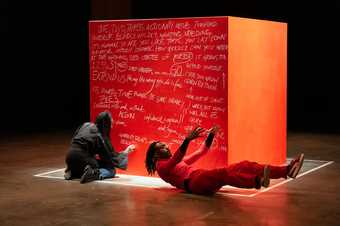 Biographies
Ekin Bernay is a Turkish performance artist, dance and movement psychotherapist, based in London. Her work focuses on the healing qualities of performance art. She uses text, sound and choreographic situations to direct the audience. Bernay works in adult mental health and schools. Ekin is represented by Performistanbul.
Thomas Heyes creates sound, film and performance addressing existentialism sutured between northern ideals. Born in Lancashire, currently in Salford: Thomas has exhibited around the UK and internationally including at the Venice Biennale. In 2018 he created All Choreographers Are Bastards a Manchester-based deconstructions project producing four full-length works and films.
Rowdy SS formerly known as Rowdy Super Star) is a London based multi-disciplinary artist. Often working at the intersection of sound/music, dance/movement and live performance alongside making videos and DJing: his works explore love, masculine/feminine and the societal implications of being first a black boy then a black man.