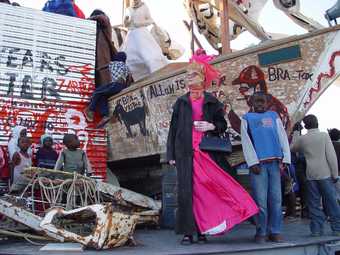 Screening introduced by German filmmaker and producer, Frieder Schlaich.
The African Twin Towers
Christoph Schlingensief, 2008 Germany, DVD, 79 min
The African Twin Towers is a documentary about Schlingensief's last, unfinished film exploring German colonial guilt. Schlingensief is director, actor and cameraman, bringing together a group of non-professional performers (and some notable celebrities including Patti Smith) to play out elaborate scenarios on a rotating ship stage in Namibia. References are made to Richard Wagner, the attacks of September 11th and Norse mythology, blending Nordic and European legends with African shamanism, the music of Patti Smith and the politicised writings of Elfriede Jelinek. (Australian Cinémathèque)
Say Goodbye to the Story (ATT 1/11)
Christoph Schlingensief, 2011 Germany, DVD, 23 min
A rain of nightmares: deleted scenes from a film that consists only of deleted scenes. the most truthful moment is a dream sequence in which the agony of the first sequence dissolves in a frenzy only to come back and haunt the third sequence. Nothing is finished, not even the intertitles. Everything is becoming. Or decaying. Schlingensief is driven to despair by his actors who are in front of, thus in the way of, his camera. He curses, he dances through the picture, he repeats and repeats. He wipes the lens looking for the moment between the pictures.
A not-making of that tells us more about the death of a story as a story about the death of a story ever could. 'Once more: Everybody has to learn, that sometimes there is a good moment to say godbye to the story. –  And then it's perfect.' This fragment is perfect because a film, as we know it, would have been nothing but a big mistake. (Jörg v. d. Horst)
See the full Tate Film programme.