Portraits of a Community
A World in Common: Contemporary African Photography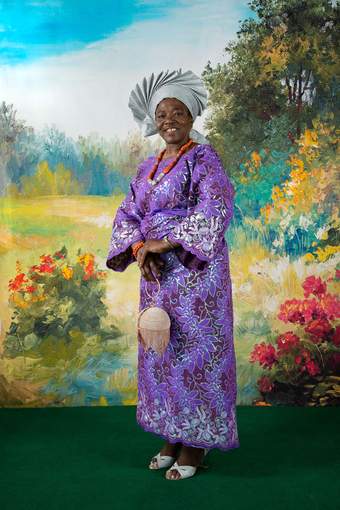 Portraits of a Community is a celebration of the diversity of London's African diaspora. It shines a light on the richness and variety of cultures and identities that exist within the diaspora while highlighting a shared pride in an interconnected African heritage.
Tate invited artist Ruth Ginika Ossai (b. 1991), whose work can be seen in A World in Common, to create a series of studio portraits featuring members of London's African community. Over the course of 2 weeks, an intergenerational group of 16 participants convened at Tate Modern to get to know one another, to hear from Ruth about her practice, and to think about what it means to represent culture and identity through portraiture. They shared stories of family, (re)connection to homeland, ancestry, and the importance of keeping identity and heritage alive outside of the African continent. The final portraits are a testament to these stories.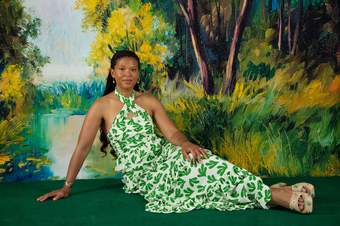 Self-Representation in Studio Portraiture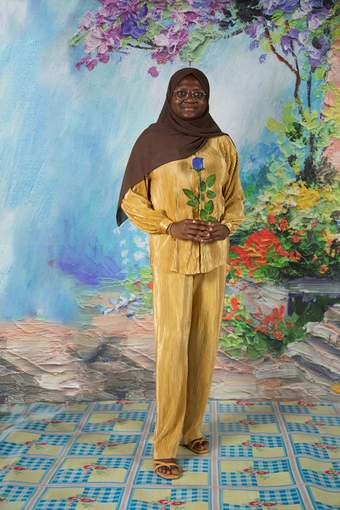 Africa has a rich studio culture, which began in the 1840s in many coastal cities. Photography studios gave communities greater agency over their appearance and during the period of independence, they became joyous spaces for the projection and performance of new identities. Like the photography featured in A World in Common, the Portraits of a Community series positions the portrait as a site of co-production and self-representation.
Each portrait is a collaboration between Ossai and her subjects. The subjects chose and wore their own clothes and jewellery; the selection of props, backdrops and carpets came out of discussions between Ruth and each subject. Ossai says, 'I wish my images to fill the people I photograph with power and agency, so they can be free and allow their true selves to shine through.'
African self-representation is a theme that also runs through A World in Common. In the exhibition guide, Sengalese academic, musician and writer Felwine Sarr (b. 1972) is quoted, 'Africa has always been the object of discourse by others. Now is the time to dream this utopia in Africa itself, to design Africa ourselves, to think, and to act for ourselves.'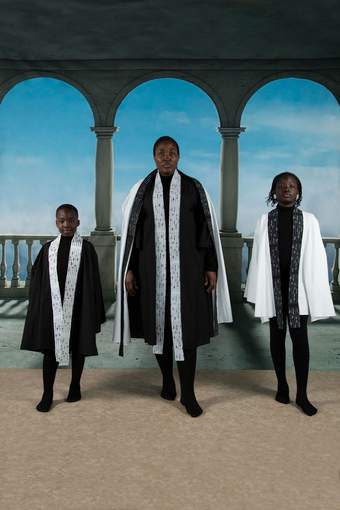 There is no single, definitive history of Africa. It is a continent of multiple, interconnected realities. Likewise, there is no one diasporic identity. Portraits of a Community features people born in London, in Nigeria, in Montserrat, and beyond, who speak different languages and dialects, eat different foods, tell different stories. What unites them is a shared desire to celebrate and show pride in their African roots.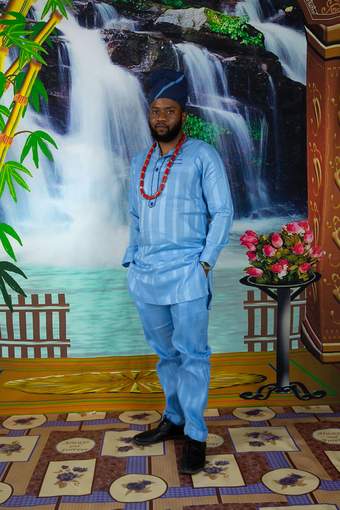 'I wanted to contribute to a visual narrative that showcases collective identities, cultures, and heritage. I believe that our stories and experiences deserve to be heard, appreciated, and celebrated. This project holds profound significance for me as a visual artist, as it enables me to embody an artistic expression that honours my heritage and unites me with a diverse community in the celebration of our shared cultural backgrounds.'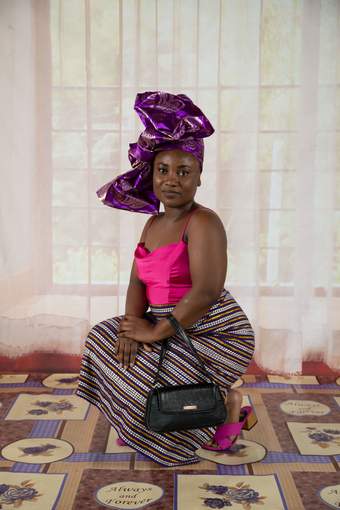 Africa has a rich heritage of royal kingdoms, including monarchs and matriarchs who resisted colonial advances on their territories. Despite this colonial violence, kings, queens and chiefs continue to play an essential role in many African societies.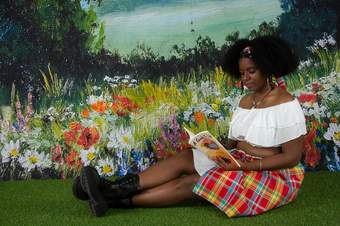 'My family name is 'Osei' from the Akan tribe and has strong links to royal lineage, although I don't often feel royal being in London. Participating in this project is an opportunity to immortalise where I'm from and to celebrate our royal roots.'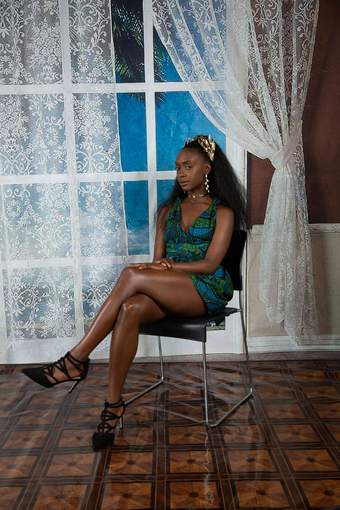 For many participants, Portraits of a Community is an opportunity to honour, connect to, and memorialise family. Whether it is family never met, family far away, or family lost.
'My mum passed away in 2020 She was the best part of my African heritage, so this is a way of giving back & making her proud.'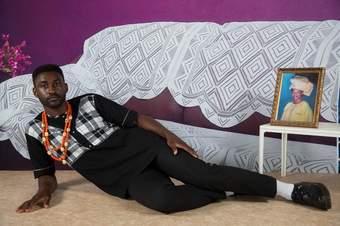 'My 8-month-old daughter's father, Felix, was German and passed away suddenly a couple of months ago. I'm leaning on my family and all of my ancestors to help me process my grief. As there is only one parent now, my daughter will only ever know the depth of her roots through me – although I'm also culturally mixed as her mother, Africa is deep within me, and her too.'

– Rienkje Awura-Esi Attoh-Wood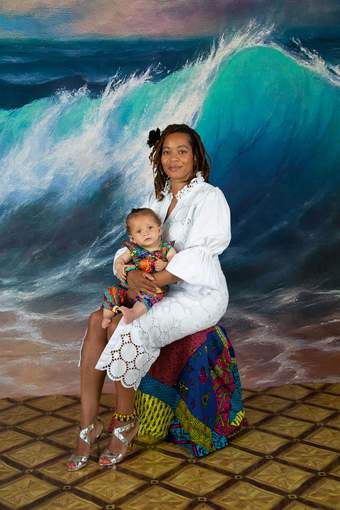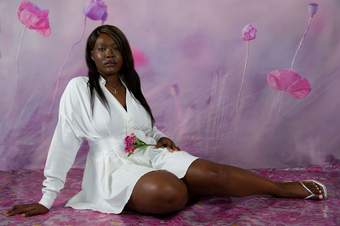 A diaspora is a group of people who spread from their country to other countries; people settled far from their ancestral homelands. Portraits of a Community is a visual (re)connection to an African homeland – to lands travelled from, or in some cases, not yet travelled to.
'I come from Itsekiri Kingdom, a Nigerian ethnic group inhabiting the westernmost part of the Niger River delta. This is an opportunity to spotlight my rich traditional and cultural heritage on behalf of the Itsekiris all over the world. I hope that in showcasing our rich culture fellow Africans can reconnect to the motherland and be proud of it.'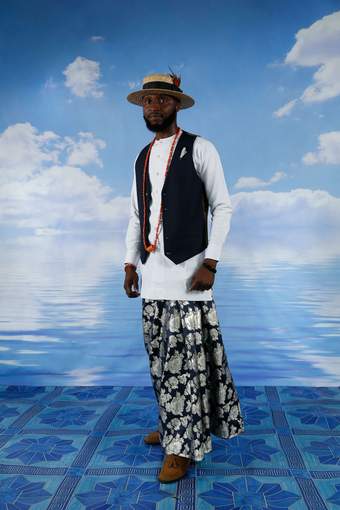 Many of the participants spoke to the importance of culture as a means of connecting with Africa or their specific African, national, or tribal identities. Whether it be food, language, stories, clothes, or art, what's passed down from generation to generation keeps a culture alive.
Living in the UK, it is so easy to assimilate and forget our culture and heritage. But I want my children to always remember who they are, wherever they are in the world.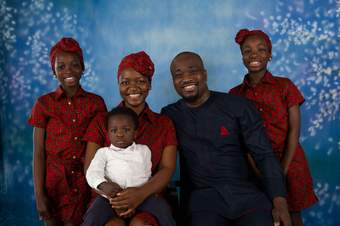 'After all, culture is what we're going to leave behind for those who are coming next.'

– Kaleemah Abiodun Akinola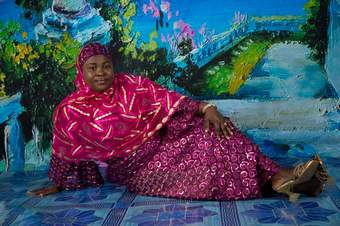 Portraits of a Community was developed with CultureTree, an organisation committed to creating diverse opportunities to learn and experience West African languages, arts & culture. Many of the project's participants came through CultureTree's Yoruba Heritage project which tells the story of the Yoruba community in Southwark through walking trails, murals, a pop-up community hub, and oral history archive.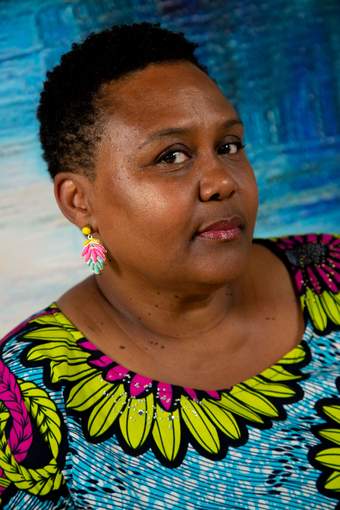 'Celebration of culture is at the centre of everything we do at CultureTree. Portraits of a Community has allowed me to showcase it for all to see and be a part of.'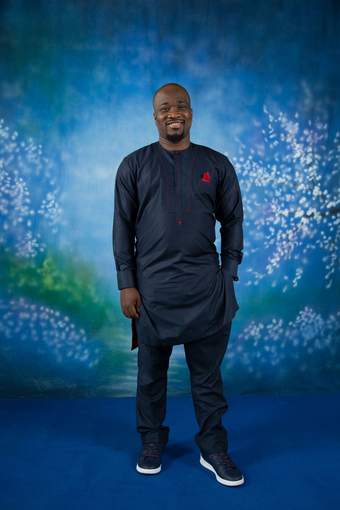 Photographer: Ruth Ginika Ossai
Participants: Kaleemah Abiodun Akinola, Bolupe Adebiyi, Oluwaseun Ademefun, Sophia Ajani, Junior Ajidahun, Alexandra Brian-Akinlade, Rienkje Awura-Esi Attoh-Wood, Bemigho Blankson, Abiola Diko, Olubunmi Enifeni, Natasha Graham Douglas, Gbemisola Isimi, Olufemi Isimi, Rasheedat Olarinoye, Ninette Osei, Kesi Steven
Special thanks to CultureTree and Luke Ossai