The Mexican artist Frida Kahlo (1907–1954) is now regarded as one of the most significant artists of the twentieth century and this will be the first major UK exhibition dedicated to her work to take place for over twenty years.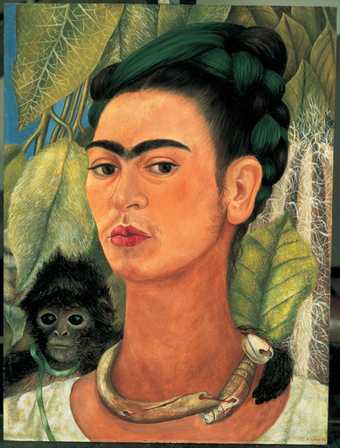 Severely injured in a bus crash in her youth, Kahlo took up painting when confined to her bed. Kahlo's life was changed forever by the accident and the portrayal of her body, wracked with pain, is a recurring theme in her paintings. Kahlo said that there were two accidents in her life –  the second was her tempestuous relationship with the renowned Mexican muralist Diego Rivera. It is in her iconic self portraits, unrivalled in their poignant beauty, that Kahlo depicts both her isolation and also her indomitable spirit and sense of self. The exhibition also reveals the less well-known aspects of her work; her powerful political insights about national identity, the plight of the poor, the march of technology and Mexico's relationship with its neighbour the USA.
Kahlo draws upon a diverse range of influences, including Surrealism, ancient Aztec belief, popular Mexican folklore, Eastern philosophy and medical imagery. For example, her chosen format of small-scale oil paintings on metal, inspired by stylistically naive devotional paintings, reflects her Catholic heritage. Yet Kahlo subverts this language by creating taboo-breaking subject matter, dealing with the frailty of the body, birth, life and death.
Displayed alongside these celebrated portraits are several lush and erotic still-life paintings, as well as lesser known but equally intriguing watercolours and drawings. The majority of the eighty works included are from Mexico and the USA, making this a rare opportunity to view so much of her oeuvre in this country.