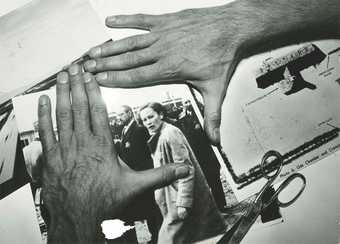 Harun Farocki, Germany 1988, colour and black and white, sound, 16mm, 75min 
Harun Farocki's classic essay film launches the dedicated film series for the exhibition Confict, Time, Photography. The series features key films that question how memory and confict are explored in cinema with films by John Gianvito, Serge Bozon and Nobuhiro Suwa among others from 30 January – 15 February 2015.
Made 43 years after the second world war, Harun Farocki's film Images of the world and the Inscription of War 1988 is one of the most celebrated works by this influential artist and filmmaker. The film focuses on the 'blind spots' in the interpretation of aerial photographs taken during an American bombing raid in 1944 of an industrial plant in Germany. Only decades later, when the photos were analysed by the CIA, was it realised that the Auschwitz concentration camps were also captured in these images. Farocki shows the links between war and photography, exploring how perception during times of conflict is conditioned by what people want or don't want to see, rendering observers as either passive accomplices or victims in times of war.
Harun Farocki who passed away on 30 July 2014 was the subject of a retrospective at Tate Modern in 2009 curated by Stuart Comer, Antje Ehmann and the Otolith Collective.
This event is the first in a series of events on the work of Harun Farocki to be held in London throughout 2015. A series of three screenings will be held at the Goethe-Institut; Schnittstelle / Interface & Aufschub / Respite on Tuesday 17 February, Zwischen Zwei Kriegen / Between Two Wars on Thursday 19 February and Stilleben / Still Life on Monday 23 February. Followed by the launch of Brave New Work: A Reader on Harun Farocki's Film A New Product at The Showroom on 25 February 2015.