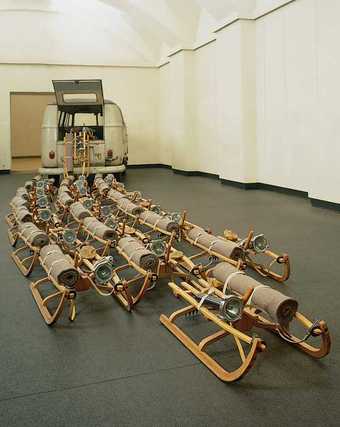 Beuys strongly believed that art had the power to shape a better society and once stated that 'It was simply impossible for human beings to bring their creative intention into the world any other way than through action." This strength of conviction led Beuys to push the boundaries of established artforms to include human action and large-scale sculptural environments exploring universal social concerns.
Joseph Beuys: Actions, Vitrines, Environments focuses on three areas of Beuys' work which became increasingly central to his artistic output during the second half of his career. Through his performances or 'Actions', Beuys encouraged audiences to incorporate his political and social messages into their everyday lives. The exhibition includes photographic and hand-written records from these momentous and transient events. Also included are a number of Beuys's vitrines, in which the artist used the display cases commonly found in museums to present objects which he considered to be socially significant. He regularly worked with felt, animal fat and wax believing them to be of universal relevance to the human struggle for survival. From the early 1970s, Beuys increasingly made larger scale, room-size installations or 'environments' of which the pack is a seminal example. Consisting of a VW van from which spill twenty-four sledges, each with a roll of felt, a lump of fat and a flashlight, this work explores the concept of human survival in the face of technological failure.
This exhibition is a rare opportunity to explore at first-hand the artistic output of this iconic figure whose radical vision changed the cultural landscape of the late twentieth century.
Exhibition organised by the Menil Collection, Houston in collaboration with Tate Modern.