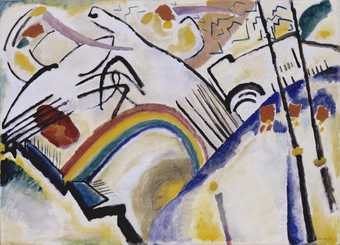 This exhibition follows Wassily Kandinsky's intriguing journey from figurative landscape painter to modernist master, as he strove to develop a radically abstract language.
Focusing on the first half of his career, the exhibition begins with a series of early landscapes inspired by the exquisite Bavarian countryside and folk imagery from Russian fairy tales and legends. It then explores how Kandinsky's style evolved after he moved to Germany and co-founded the groundbreaking Der Blaue Reiter (The Blue Rider) group. This period had a major influence on his work and it was during this time that Kandinsky began to conceive of painting as an alternative pathway to spiritual reality. Increasingly, he stripped away descriptive detail by reducing recognisable elements, like hilltop castles and riders on horseback, to calligraphic lines. At the same time, he began to include large areas of vibrant colour to stimulate emotions associated with classical music and to provoke responses which the considered use of specific colours could lead to. In abstraction, Kandinsky felt that he had discovered a spiritual reality which was more powerful for not being tied to the outside world – an alternative music for the senses.
The exhibition continues by exploring the artistic changes which accompanied Kandinsky's move to Russia and subsequent return to Germany where he became a member of the Bauhaus. Contemporary developments in Russian avant-garde art and Bauhaus design, were to influence Kandinsky's abstract language further and to have a major impact on his later works.
This exhibition presents over 50 paintings and 30 works on paper. Many of these have never been exhibited in the UK making this an unmissable opportunity to see so many of this modernist master's most influential works together.