Join Spanish artist Rosana Antolí as she transforms Tate Exchange into an immersive and participatory space exploring ideas around ecology and biology in relation to art and choreography.
The Kick Inside, The Loop Outside is based on the figure of Turritopsis dohrnii, the immortal jellyfish. Turritopsis dohrnii is a new point of interest for the artist as part of her continuous investigation around the concept of repetition and the 'infinite loop'. Using performance, installation, sound, sculpture, painting and video, this project explores biological motion and its connection to human identity, experience and behaviour.
Throughout this project, Tate Exchange will be in continuous transformation. There will be daily screenings and performances, live installations, and participatory workshops. Visitors are encouraged to take an active role and participate in the space, experimenting with and questioning their own everyday movements.
Free drop-in workshops take place everyday at 13.00, with daily performances beginning at 17.00
Concept, Art and Performance Choreography: Rosana Antolí.
Collaborations:
Sci-fi Text: Rosana Antolí in collaboration with Jano Herrera. Video final edition and postproduction: Carmen Menéndez. Exhibition Sound and composition: Caçacervols. Performance Sound and composition: Kin Molina / Caçacervols. Master Sound: Paul Bessone. Costume making and design: Carolina Rieckhof. Main Performers: Nora Silva and Attila Andrasi. Other performers during preview: Melissa Sirol, Sarah Kent, Hamish Macpherson.
The Kick Inside, The Loop Outside is curated by Trâm Nguyễn and Luisa Ulyett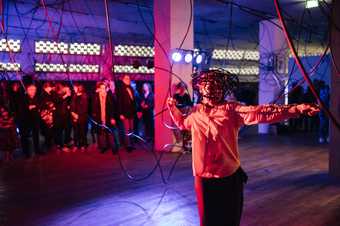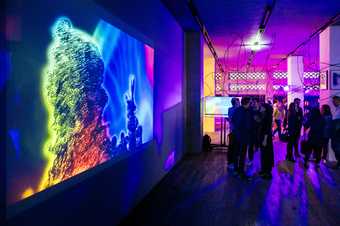 Biographies
Rosana Antolí
Rosana Antolí's practice examines the role of social choreography and movement in relation to visual art. She is specifically interested in the poetics of everyday actions through repetition and the connection rhythms in urban spaces and the geographical gestures of the body. Rosana works between drawing, sculpture, video, performance and installation. Her works have recently been exhibited at Centre Pompidou (2018), Artium Vitoria Museum (2017), BBVA Foundation (2017), The Ryder Projects Gallery (2017), Joan Miro Foundation Museum (2016) and more.
Attila Andrasi
Born in Hungary, lives in London. Studied at Budapest Contemporary Dance Academy and the Salzburg Experimental Academy of Dance (SEAD) where he gained professional experience at different festivals such as New Face Dance Festival in Salzburg, Symphonic Dance Festival, Tanz House Festival and To Spring Tanz Festival in Salzburg.He has worked internationally with Alleyene dance company (UK), Eduardo Torroja (ESP), Jelka MIllic (SL), Elton Petri (GR), Rakes Sukes (IND), Lior Lazarof (ISR), HZT Academy, Anna Németh (HU) and collaborates with visual artists like Andrea Canepa (CO) or Rosana Antolí (ES)​.
Nora Silva
Spanish-Chilean artist based in London. She graduated from the Royal College of Art in July 2017, and recent solo shows include Hear Me Whisk at Lajuan gallery in Madrid, and Your Friendly Local, at Chalton Gallery in London. Nora manufactures contexts and build sculptural installations as a fiction from where to address political issues. She also co-directs The Gramounce, an exhibition supper club, and MilesKm, an arts collective for the research of collaborative practices within the arts.
Sarah Kent
Sarah Kent is known internationally as a critic and curator. She trained as an artist and historian, but has since studied dance and voice and, in 2011, began improvising her own solos and appearing in projects for stage, screen, gallery and site-specific spaces by other artists. She has worked with Rosana Antoli, Karen Christopher, Phoebe Davies, Carlos Jimenez, Peter Liversidge, Ilona Sager, Cally Spooner and Robert Wilson, danced for choreographers Rosemary Lee and Tetsuro Fukuhara and sung for composers Harvey Brough, Helen Chadwick, Orlando Gough, Jenni Roditi, and Esmeralda Conde Ruiz. In 2014 she was nominated for the Critics' Circle Emerging Artist Award for Dance and has served on the jury for the Olivier Awards in dance.
Melissa Sirol
Melissa Sirol is a trained actor & performer. Born in Canada, she studied Performing Arts & Theatre in France. Since arriving in London 9 years ago, she started performing for Rosana Antoli, which then led to multiple collaborations with different artists (Leonor Serrano Rivas, Lito Kattou, Emily Perry and more). Over the years, she's also acted in short and feature films (The short film Unlined, directed by John Michael Mouskos won the Honorable Mention award at the IFAB and was shortlisted for the British Independent Film award in 2015). Melissa has also worked & toured with different theatre companies (ImmerCity, Graeae, Familia de la Noche, etc..). Now off to a new chapter, she will be relocating to Montreal, Canada in Summer 2019.
Hamish MacPherson​
Hamish MacPherson is a London-based artist who works with choreographic methods and ideas to do philosophy. This takes the form of live works as well as films, audio pieces and texts. His current series of works, Configurations, orbits around the idea of care as an aesthetic, choreographic and political practice – a negotiation of constantly fluctuating needs, capacities and interests. As part of this he publishes the magazine STILL LIFE, which features interviews, texts and images from performance, kink, healthcare and other domains.