Laida Lertxundi's short films reveal a unique approach to regional and structural filmmaking, being as much about the processes of filmmaking and engaging with local landscapes as the environments themselves. Shot on 16mm film in and around Los Angeles, these works move between intimate interior architectures and the magnitude of open landscapes to map out a geography transformed by affective and subjective states. Using non-actors and intricate arrangements of visual and audio sources, her works explore how filmic moments can be imbued with emotional resonance. Each film is punctuated by sound events recorded on the shoot, including live music, readings and field recordings. This screening presents five of Lertxundi's works dating back to 2007 and concludes with the UK premiere of her most recent film, 025 Sunset Red.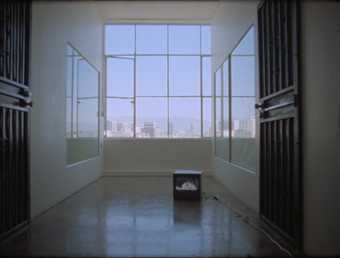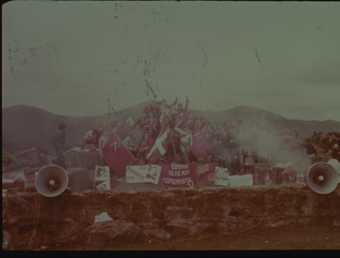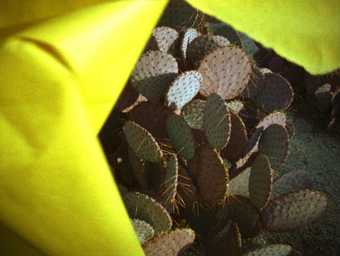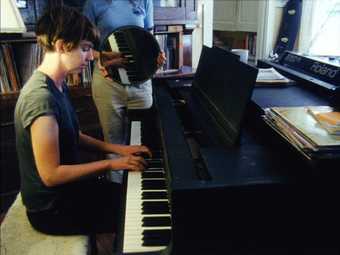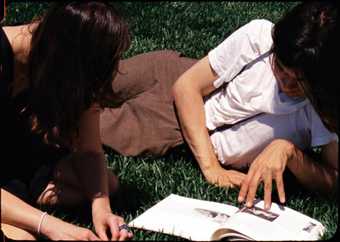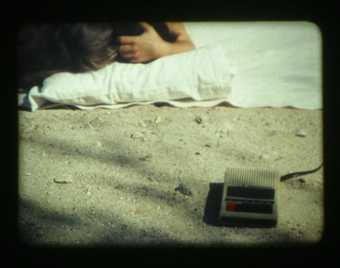 Programme
Footnotes to a House of Love, USA 2007, 16mm, colour, sound, 13 min
'A series of shots in a California desert landscape in which there is a play between on frame and off frame, sound and image. There is an effort to create the space of a story, without a story, by the use of real time/diegetic sound. Love is felt as a force that determines the arrangement of the figures in the landscape'.
Laida Lertxundi
 Cry When It Happens, USA 2010, 16mm, colour, sound, 14 min
'Los Angeles City Hall is reflected onto the window of the Paradise Motel. It serves as an anchor for this traversal through the natural expanse of California. Here, we discover a restrained psychodrama of play, loss, and the transformation of everyday habitats. Music appears across the interiors and exteriors and speaks of limitlessness and longing'.
Laida Lertxundi
 The Room Called Heaven, USA 2012, 16mm, colour, sound, 11 min
'American plains and high altitudes assembled in a B-roll structure take us to a place of sounds*. Plans américains show color and temperature shifts while an emotional room tone is sustained for the length of a 400ft camera roll'.
Laida Lertxundi
*Vision: Sound on Screen, Michel Chion.
 Vivir para Vivir [Live to Live], USA 2015, 16mm, colour, sound, 11 min
'A certain trajectory of being lost is drawn across sparsely populated mountain regions while physical processes from heartbeat to orgasm shape image, sound and color patterns until the horizon is reached'.
Laida Lertxundi
025 Sunset Red, USA 2016, 16mm, colour, sound, 14 min
'025 Sunset Red is a kind of quasi-autobiographical reckoning…It's a set of echoes of an upbringing by communist radicals, not as nostalgia but as a way of making sense, of finding practical applications of the past in the present. Within the film, blood is collected and poured, red filters cover landscapes, and images of desire are both produced and observed. The film is a diaphanous, psychedelic foray into the domestic and the political, looking at ways that politics may erupt, shape a life, form a sensibility, and become inscribed upon a body'.
Laida Lertxundi
The screening is followed by a discussion and Q&A with the artist.
About the filmmaker
Laida Lertxundi (b. 1981, Spain) is a filmmaker and artist living and working in Los Angeles. Her work, shot primarily on 16mm, is made with people, landscapes and sounds, and employs a fragmentary approach to editing in which cinematic forms of storytelling are replaced by a focus on process and materiality. Lertxundi studied with filmmakers Peter Hutton and Peggy Ahwesh at Bard College, where she received her BFA, and with James Benning and Thom Andersen at the California Institute of the Arts, where she completed her MFA. Lertxundi's films have screened at several international museums, festivals, and galleries. She teaches in the Fine Art program at Art Center College of Design in Pasadena.​