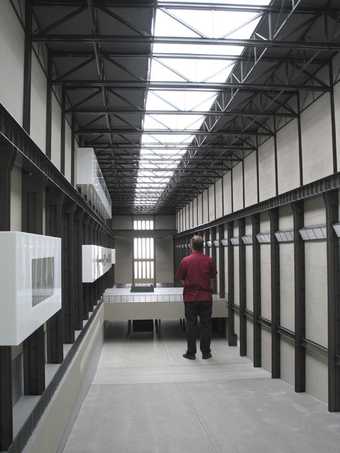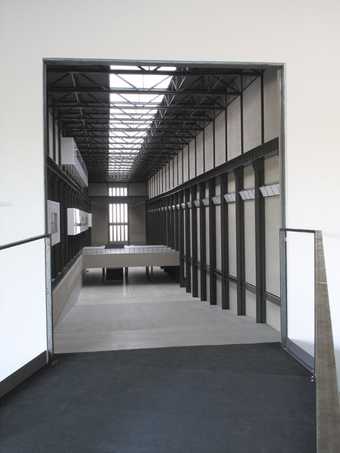 Roman Ondák's work, which might take the form of an installation, performance or an intervention scarcely distinguishable from the context in which it is presented, often provokes a double-take in the viewer, making them question their perception or awareness of social codes. For one such intervention, called Good Feelings in Good Times 2003–4, Ondák created a queue of people that formed outside the main entrance of the Kunstverein in Cologne. The work was also shown at Frieze Art Fair in October 2004 where the queue formed, dispersed and regrouped in a series of random locations within the Fair. For Silence, Please 2004, at the Stedelijk Museum, Amsterdam, Ondák asked the museum attendants to dress in guard uniforms from the period – the 1940s – in which they were born, while SK Parking 2001 featured a cluster of Slovakian Skoda cars parked for two months behind Secession, a grand museum in Vienna. Ondák's work evokes displacement and transition, both physical and temporal, and draws upon memory, imagination and empathy for its impact.
For Tate Modern's Level 2 Gallery, Roman Ondák has shrunk the famous Turbine Hall of Tate Modern to the dimensions of the Level 2 Gallery. Visitors are able to walk inside an incredibly detailed scale model of the hall which is approximately 15 metres long, 3.6 metres high and 2.5 metres wide. All of the architectural details of the Turbine Hall have been faithfully reproduced, matching materials, colours and textures. The work is entitled It Will All Turnout Right in the End, 2005–6, and constitutes a kind of stage-set for viewers, providing a platform for fictions to unfold. It is a remarkable work which playfully questions notions of power and hierarchy.
Roman Ondák lives and works in Bratislava, Slovakia.
The exhibition Roman Ondák is sixth in a series of exhibitions conceived by Jessica Morgan, Curator, Contemporary Art, Tate Modern, and is curated by Maeve Polkinhorn, Assistant Curator, Tate Modern.