French artist Lili Reynaud-Dewar presents the UK premiere of her recent film TEETH, GUMS, MACHINES, FUTURE, SOCIETY alongside a selection of short videos from the past five years. Integrating autobiographical aspects in each of her projects, Reynaud-Dewar's works address an ongoing discussion on issues surrounding the public and private body through a myriad of references to subcultures and liberation movements of the twentieth century. 
Programme
TEETH, GUMS, MACHINES, FUTURE, SOCIETY, France / USA 2016, DCP, colour, sound, 39 min
Lili Reynaud-Dewar's latest film forms part of a larger project that developed through her frequent trips to Memphis, Tennessee, between 2009 and 2016. There she gathered a group of four local stand-up comedians and gave them each a set of custom-made gold teeth grills. These flashy prosthetics served as a common denominator for conversations on race, rights, rap, the body, cyborgs and comedy that emerged in each of their encounters, culminating in a final cacophonous performance of Donna Haraway's 'A Cyborg Manifesto' (1985) in Memphis's futuristic-looking Levitt Shell amphitheatre.
TEETH GUMS MACHINES FUTURE SOCIETY (Dance video, Kunstverein, Hamburg), France 2016, digital video, colour, silent, 4 min
Inspired by radical figures such as Cosey Fanny Tutti and Josephine Baker, Reynaud-Dewar's dance video performances draw movements from both her background in ballet and her daily life, playfully confronting the white cube with her painted body. Each performance is tightly connected to her current projects and research, thus making the body an active instrument of understanding and knowledge, a tool beyond language. 
Cléda's Chairs, France 2010, digital video, colour, sound, 19 min
Set in the French countryside, Cléda's Chairs observes the artist's grandmother packing up the contents of her home, describing her relationship to the house and its furniture as she prepares to downsize to a condo. Cut with footage of two young women applying black paint to their bodies and antique chairs and a television set on which Pier Paolo Pasolini's Notes for an African Orestes (1970) can be seen, the video's introduction of loaded and nuanced racial and post-colonial gestures trouble the surface(s) of the portrait.
Live Through That ?!, France 2014, digital video, black-and-white, silent, 8 min
Filmed in black and white at Atelier Brancusi in Paris – a reconstitution of the Romanian sculptor's studio – we see Reynaud-Dewar, fully painted in dark make-up, gazing at the display, stretching, dancing in the documentation rooms and occasionally checking her phone. The confrontation between this erratic body and the impeccably cold display is critical, stressing the questions raised by extra-occidental influences in modernist sculpture. 
In reality, is the Sphinx an annex of the monument or the monument an annex of the Sphinx?, France 2008, digital video, colour, sound, 4 min
This music video is the final part of a larger performance linking heterogeneous elements such as Egyptology, the radical architecture of Italian group Superstudio, Afrocentrist theories and an observation of French suburbs and buildings. Filmed in a single shot on a suburban playground, it depicts a group of four kids dancing and rearranging basic geometric objects into architectural models. 
The screening is followed by a conversation with the artist and an audience Q&A. 
DCP courtesy Red Shoes; digital videos courtesy C L E A R I NG, New York/Brussels; Galerie Kamel Mennour, Paris; and Galerie Emanuel Layr, Vienna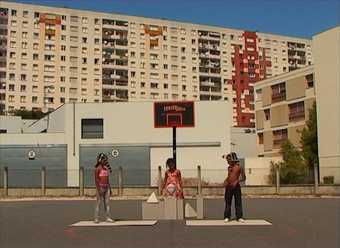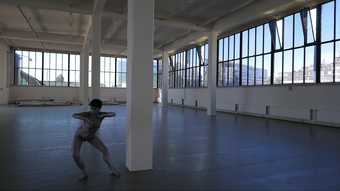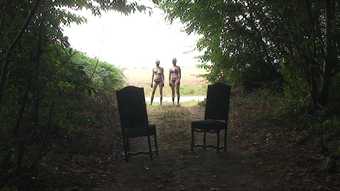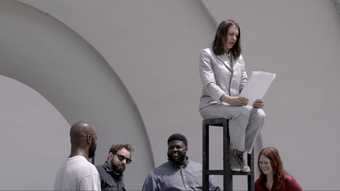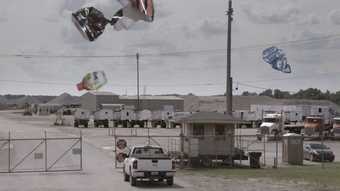 About Lili Reynaud-Dewar
Lili Reynaud-Dewar (b. 1975, France) is a writer and artist whose projects interweave sculpture, video, sound and performance. She studied public law and ballet before turning her attention to art practice and criticism. In 2009 Reynaud-Dewar cofounded Pétunia magazine and in 2015 published a collection of her writings in an anthology titled My epidemic (texts about my work and the work of other artists). Her work has been exhibited internationally, including the Berlin Biennial (2008), the Paris Triennial (2012), the Lyon Biennial (2013) and the Venice Biennale (2015). In 2013, she was awarded the Prix Fondation d'entreprise Ricard.