We are already living with the Internet of Things (IoT). Objects like your TV and smart phone, bus services, kettles, even the Australian Great Barrier Reef – anything really! – can be interconnected via the internet. Find out about the movement of data and people, and what you can or cannot influence. Expect a mix of interactions with data, objects and people – including yourself and your data.


The Listening Wood and Tales of the Park
Martin de Jode, Leah Lovett, Duncan Hay, Andy Hudson-Smith, University College London, & Lucy Fraser, City of London
Take a stroll through the woods. Use your phone and the key words to unlock the stories of the trees and the gnomes. Does the gnome know something about you already? These works use chatbot technology to create conversations.

GeoPact
Dave Murray-Rust, Ella Tallyn, Evan Morgan, Eleonora Muller and Joe Revans, University of Edinburgh
Have you heard about Blockchain? Unsure about what it is? Enter into a GeoPact to experience and question the researchers about a fusion between location-based and blockchain technologies. Figure out if the smart objects are where they say they are and track locations without invading privacy.

Living Room of the Future
Paul Coulton, Joe Lindley and Adrian Gradinar, Lancaster University in collaboration with BBC R&D
Step into the Living Room of the Future and experience how everyday objects, like your TV, central heating, lights and curtains, might work together to provide a new, immersive experience which is personalised for you based on your collected data. Think about how your personal data is used and shared. Interactive talks throughout the day.

Human Sensor and Coral Love Story
Artist Kasia Molga explores wearable technologies to make the effects of climate change less remote.
Human Sensor
An illuminated super-hero costume measures air quality and pollution. The Human Sensor captures Nitric Oxide data from her exhaled breath, creating light patterns to warn her fellow city dwellers, sharing the chemical and geo-location data on an IoT platform. Commissioned and produced by Invisible Dust.
Coral Love Story
A responsive wearable that can react in real time to coral reef bleaching alerts, informing the viewer by changing the pattern of the wearable from colour to transparent, felt through vibrations from tiny motors. Commissioned by Invisible Dust.

Data Feeders and Move for Me Baby
Artist Nye Thompson plays with IoT technology and data, imagining an audience of humans and sentient machines, aware and capable of feeling.
Data Feeders
Imagine you are a connected device – data is your lifeblood, your fuel, your currency – how will you use it? Become a node on the Internet of Things and feature in a live drawing performance.
Move for Me Baby
In the future it's not just your family and pets that demand your attention – a global network of needy devices is growing! Thompson's playful interactive sculpture insists that you take notice.

Discuss
10 minute talks followed by discussion.
Friday 8 February
13.00 - How diverse data sets can inform your decisions, with Steve Crouch, University of Southampton
15.00 - Autonomy-enhancing technologies: granting people superpowers in an age of algorithmic governance, with Max Van Kleek, University of Oxford
17.00 - Making security and privacy a reality in future transport systems, with Carsten Maple, University of Warwick
Saturday 9 February
13.00 - The art of things, with Chris Speed, University of Edinburgh
15.00 - Gender and IoT: the rise of the Internet of Things and implications for technology-facilitated abuse, with Leonie Tanczer, University College London
16.00 - The making of music: creative algorithmic interventions and the imagination of Ada Lovelace, with Dave de Roure, University of Oxford

Smart Utopia
Ed Moxon, Cyber Security Centre, University of Warwick
Citizens of the future! Enjoy your cyber-enabled services: smart transport systems, bus trackers, intelligent building management systems. It's Utopia. But what happens when Utopia is under attack? Discuss the controls of citizen services and how vulnerable these might be.

Karma Kettles
Larissa Pschetz, Billy Dixon, Esteban Serrano, Chris Speed, University of Edinburgh
Can your kettle do more than just boil the water? Play the Karma Kettles game. It shows how we might store and trade energy in the future. Make decisions on storing energy and giving back to the grid. But don't get into negative karma!
Please note that the programme might be subject to last minute changes.

Free, drop-in, and open to everyone at all ages.
Curated by Tate Collection Care Research, Tate Digital Learning and PETRAS.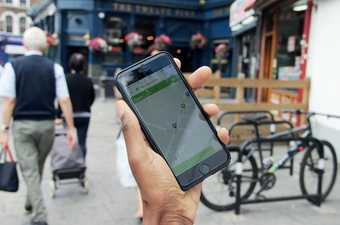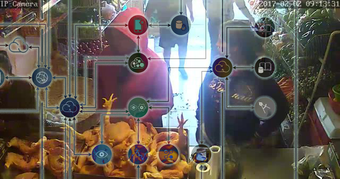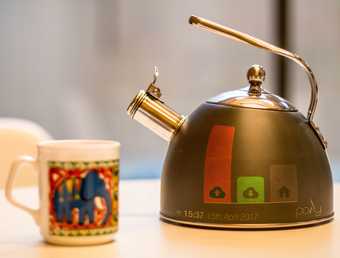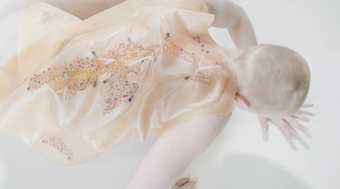 About PETRAS
This event has been developed by the PETRAS Internet of Things Research Hub, funded by the EPSRC and DCMS and comprises of researchers from 11 UK universities: UCL, Imperial College London, Lancaster University, University of Oxford, University of Warwick, Cardiff University, University of Edinburgh, University of Southampton, University of Surrey, University of Bristol and Newcastle University.