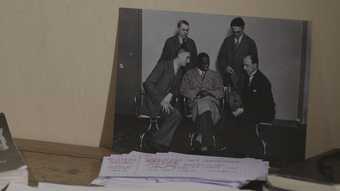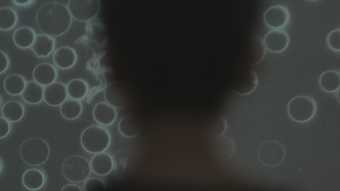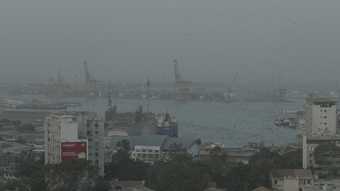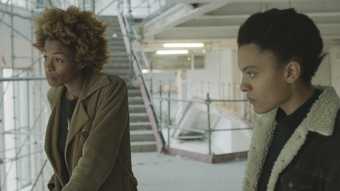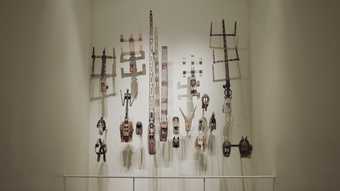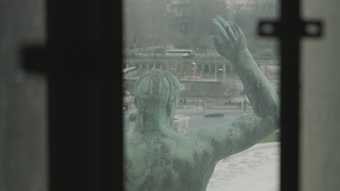 Mathieu Kleyebe Abonnenc's new project Sector IX B, Sleeping Sickness Prophylaxis is a fictional film addressing political issues as well as scientific and artistic narratives whose echoes still inform national and international relations today. A young anthropologist tries to redefine the boundaries of her discipline as she leads a group of researchers between Dakar, where she lives and works in the IFAN Museum, and the Musée de l'Homme in Paris. In order to do this she reconstitutes the medical prescription box given to the members of the famous Dakar-Djibouti Mission, and tests the effects of the drugs on herself. Starting with the discovery of a family archive, an album featuring photographs of objects, individuals, families and officers as well as a series of landscape photographs shot in Gabon by the artist's grandfather Emile Abonnenc from 1931–34. The film also draws on a reading of the diary L'Afrique Fantôme / Ghost Africa written by Michel Leiris during the Dakar-Djibouti mission.
Mathieu Kleyebe Abonnenc, Sector IX B, Sleeping Sickness Prophylaxis, FRA 2015, HD Video, colour / sound, 42 min
Production credits
Co-production of Centre Pompidou Metz and CAC Brétigny
In partnership with the National Museum of Natural History in Paris (Jardin des Plantes site & Musée de l'Homme), Quai Branly Museum in Paris, and IFAN in Dakar.
Courtesy and coproduction Marcelle Alix gallery, Paris ;
Production red shoes I SOME SHOES

This project was selected and supported by the patronage committee of the National Foundation for Plastic and Graphic Arts (FNAGP) that supported it.
With additional support of the French National Centre for Plastic Arts (CNAP-Image/Movement) and with the participation of Groupe Galeries Lafayette and FMSH (Fondation Maison des Sciences de l'Homme).
The evening will feature a sound performance by PAL.
Biographies
PAL
PAL is made of 3 musicians, 29 instruments, and 12 055 cm of cables. This collective appeared 16 times in public. What they did then could be compared to the art of building a fire: what matters is not the fire itself, it's the heat and the light it produces, allowing to warm up, to cook, or just to gather. Therefore, what matters for PAL is not any sound's purity (when a lot of noise bands are purists), but the alterations of spaces, lights, people, situations, that their musical device induces. They met 7 years ago in an art school, and have been enhancing their stock of wires, pedals and homemade instruments since: they built stones, islands, they built walls, poems and guns, and they're keeping on building these very peculiar always-changing sounds.