Pauline Curnier Jardin's eccentric and theatrical films reimagine historical events or characters through stylised and often improvised sequences. Beginning with existing phenomena – a sentiment, a historical or mythological figure, a site or an object – she elaborates their stories to explain their fundamental significance via symbolic or allegorical scenarios. This screening presents two works that build off the fateful histories of German and French sites bombed in the two world wars and concludes with a section of a future feature film confounding carnival and carnage.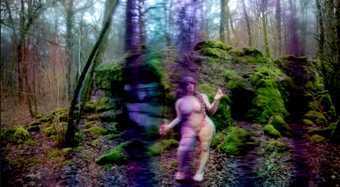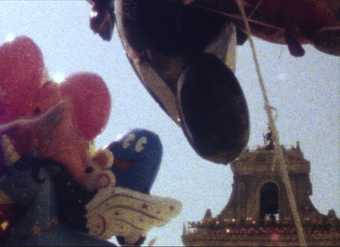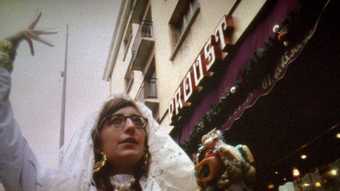 Programme
Pauline Curnier Jardin, Hearts of Flint [Coeurs de Silex], France 2012, 16mm transferred to digital, colour, sound, 40 min, French with English subtitles
This allegorical epic takes as its starting point the traumatic history of a small Parisian suburb, Noisy-le-Sec, bombed by the Allies in 1944. Set in a 'non-time' that is at once pre- and post-apocalyptic, the film takes place over the course of four days during which an ally, occupant, witch, mystic, trainer and child improvise roles related to the physical and emotional consequences of war.
Pauline Curnier Jardin, Bloodbath Parade [Blutbad Parade], France/Germany 2014, digital, colour, sound, 30 min, French and German with English subtitles
Bloodbath Parade is the story of a phantom circus that returns every hundred years in order to play again on the site of original violence, an arena in the French-German border city of Karlsruhe that was bombed in 1916 by the French air force mid-way through a performance killing hundreds of civilians. In its aesthetic form, this film poses the riddle of the monstrous simultaneity of three notions: war, the artistic avant-garde, and revolution.
Pauline Curnier Jardin, Explosion Ma Baby, The Netherlands/France 2016, Super 8 transferred to digital, colour, sound, 9 min, work-in-progress
A drum solo, fireworks, bells, streamer explosions, chants and a marching band set the quick pulse of Explosion Ma Baby. The film's footage was shot at the same hour of the same day five years in a row during an annual procession.
The screening is followed by a discussion with the artist.
Biography
Pauline Curnier Jardin (b. 1980, France) is an Amsterdam-based artist working across installation, performance, film and drawing. In 2008 she began creating a series of 'movie-performances' (Ah Jeanne!, LOV and TVO and The White Ferrals) which combine cinema and stage narrative. She went on to experiment with the format of an 'objects optic opera' (Le Salon d'Alone, 2010), as well as an ethnographic peep show (Ami [friend], 2010). Curnier Jardin extends her work with performance into her short films Grotta Profunda (2011), Hearts of Flint (2012), Bloodbad Parade (2014) and The Resurrection Plot (2015), the latter initially commissioned by RoseLee Goldberg and Charles Aubin as a live theatrical work that served as a central event in the 2015 Performa Biennial. Her work has also been presented at Fondation Cartier, Paris (2015); MIT List Visual Center, Cambridge (2014); Haus der Kulturen der Welt, Berlin (2013); Palais de Tokyo, Paris (2013); Centre Georges Pompidou, Paris (2012); Musée d'Art Moderne, Paris (2010) and ZKM Museum of Contemporary Art, Karlsruhe (2010). Curnier Jardin was recently selected for participation in the Arsenale exhibition of the upcoming Venice Biennale.