You are invited to join students, academics, art historians and artists at Tate Exchange for two workshops that take a fresh look at futurism and Dada:
Interdisciplinary Futurism
An interactive introduction to futurism led by students and researchers from different disciplinary perspectives including art history, history and literature.
Futurism, an early twentieth century movement that aimed to capture and celebrate the energy of the modern world, impacted on multiple aspects of art and society. 
Join sixth-form and university students in exploring the Italian futurist movement. Look at works by futurist sculptors and painters in Tate's collection, before joining us at Tate Exchange for an interactive workshop led by Giuliana Pieri. Meet students of history, art history, Italian, and comparative literature and culture as they share what futurism means to them. Collaborate in exploring this avant-garde movement from different perspectives, and try your hand at writing your own futurist poems.
Discuss the main ideas and innovations put forward by futurism. The futurists proclaimed their love of speed, technology, youth, and violence. They turned objects such as cars and aeroplanes into beauty icons of the new age. They sang the excitement of life in the new industrial cities, teaming with masses of people. Their politics and extreme nationalism however also had a darker side which, after the First World War, aligned itself with Italian totalitarianism.
Explore The Futurist Reconstruction of the Universe. Different disciplines have looked at this movement from different perspectives. The futurists themselves aimed to revolutionise all aspects of society, from the arts to architecture, from poetry to dance and theatre, from music to fashion.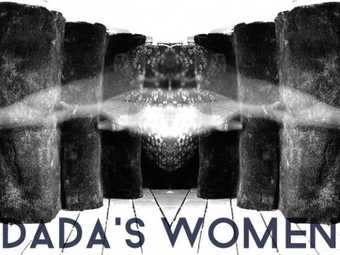 Performing Dada's Women
14.00 – 16.00
Join us in our quest to restore to prominence the pioneering women of Dada – 100 years after they shook up the arts in Europe – in this interactive workshop.
Learn, witness and discover:
Learn: Discover more about some of the women artists, writers and performers who shaped Dada, in a talk by Ruth Hemus author of the book Dada's Women. We will consider how Emmy Hennings animated the Cabaret Voltaire in Zurich; how Sophie Taeuber danced, designed, painted, sewed and sculpted her way through arts and crafts; and how Hannah Höch cut and pasted photo-matter in Berlin.
Witness: View new digital work by the artist Vaia Paziana inspired by Dada's women, and listen to the latest musical compositions by Sonia Allori. Hear about our project to produce a multimedia performance that embraces verbal, visual and musical languages. One hundred years after the movement began participate in our objective to restore Dada's women to the stage in the twenty-first century.
Create: Try out the Dada principle of chance by making your own poem. Be part of our project to keep the avant-garde relevant to contemporary life. Test one of the movement's slogans: 'Everyone can do Dada!'
These events are programmed by Royal Holloway, University of London, a Tate Exchange Associate.
About Royal Holloway, University of London
Royal Holloway, University of London is a community of over 10,000 students and academics committed to fostering creativity and excellence in teaching and research.
Royal Holloway has an emphasis on creative subjects, with outstanding Drama, Theatre & Dance, Media Arts, Music, Modern Languages and Geography.