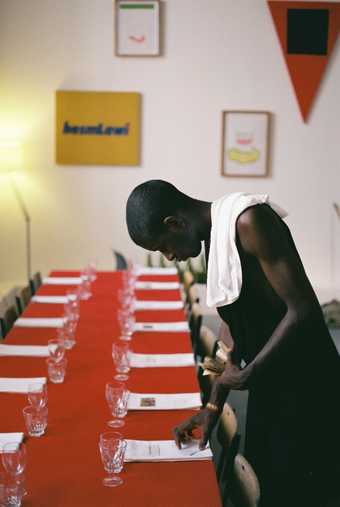 Groundnut are adapting their hand-built dining tables to form a 20-metre long table that will run down the slope through the centre of the Tate Modern's Turbine Hall.
The colourful fabric-stretched table will support their book The Groundnut Cookbook alongside thousands of fresh oranges which guests are welcome to peel, core, and drink, directly from the fruit, to create a traditional West-African orange juice. The table, which echoes the architecture of the hall, is intended to act as an invitation for guests and participants of the festival to spend time socialising in the space.
Biography
The Groundnut is a food project created by Duval Timothy, Folayemi Brown and Jacob Fodio Todd. Since 2012 they have created bi-monthly dinners in various spaces around South-London exploring African food.
Their book The Groundnut Cookbook is published by Penguin and available from the 2 July 2015.