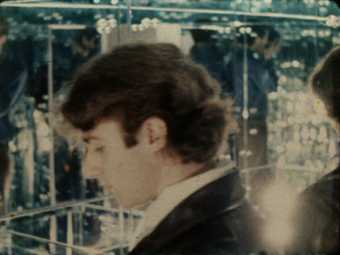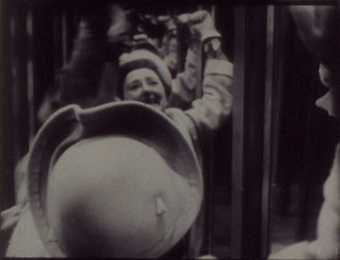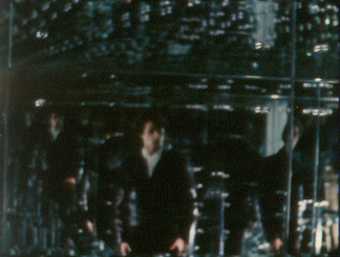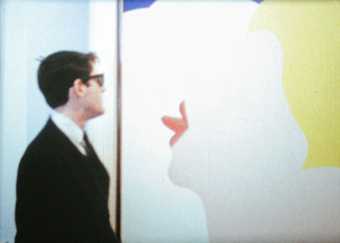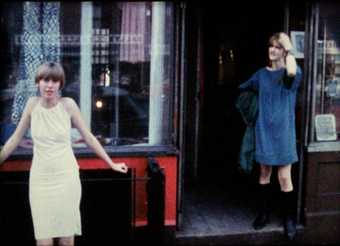 This programme pays tribute to Warren Sonbert's Warhol-era influences. As a film student at New York University in the mid-1960s, Sonbert incorporated the avant-garde art scene of Warhol and his contemporaries into his filmmaking enterprise. Where Did Our Love Go? includes scenes from Warhol's Factory and the art-gallery world. Sonbert described the film as follows: 'Warhol Factory days…serendipity visits, Janis and Castelli and Bellevue glances…Malanga at work…glances at Le Mépris and North by Northwest…Girl rock groups and a disco opening…a romp through the Modern.' Hall of Mirrors is an outgrowth of one of Sonbert's film classes at NYU, in which he was given the out-takes from a Hollywood film (starring Fredric March and Florence Eldridge) to re-edit into a narrative sequence. To this footage Sonbert added scenes he himself shot of Warhol's superstars Rene Ricard and Malanga in more private and reflective moments. Sonbert's films are in vivid counterpoint to Warhol's iconic portraits represented here by a pair of Screen Tests of Gerard Malanga and the influential poet and filmmaker Charles Henri Ford. Sonbert collaborated in 1967 with Malanga shooting footage for and briefly appearing in his film In search of the Miraculous and in 1971, Sonbert collaborated with Charles Henri Ford providing poetic narration on the soundtrack for his film Johnny Minotaur.
This programme is introduced by writer Lynne Tillman and followed by a discussion with Tillman, James Boaden and Jon Gartenberg.
Programme
Where Did Our Love Go?
Warren Sonbert, USA 1966, 16 mm, colour, 15 min
Hall Of Mirrors
Warren Sonbert, USA 1966, 16 mm, colour, 7 min
Screen Test – Reel 3 – #10 Gerard Malanga
Andy Warhol, USA 1964, 16 mm, 4 min
Screen Test – Reel 8 – #3 Charles Henri Ford
Andy Warhol, USA 1966, 16 mm, 4 min
In Search of the Miraculous
Gerard Malanga, USA 1967, 16 mm, sound 30 min
Lynne Tillman
Lynne Tilman is a novelist, short story writer and critic based in New York. Her fifth novel American Genius, A Comedy was published by Soft Skull Press. Other novels include Haunted Houses and No Lease on Life, a National Book Critics Circle finalist in Fiction. Her most recent collection of stories, her fourth, is Someday This Will Be Funny. Currently, Tillman writes a bi-monthly column, 'In These Intemperate Times', for frieze magazine, and is at work on a new novel, Men and Apparitions. In January 2014, her second essay collection, What Would Lynne Tillman Do? will be published by Red Lemonade Press. Lynne is the guest editor of The Happy Hypocrite – Freedom, issue 6, published by Book Works launched in October 2013.
James Boaden
James Boaden is a lecturer in the history of art at the University of York. He is currently working on a book about the circle of Stan Brakhage from 1950-1965. He has curated film screenings at BFI Southbank, Tate Modern, and La Virreina, Barcelona and has published essays in Art History, Oxford Art Journal, and Little Joe. During 2013 he has been writer in residence at LUX: Artists' Moving Image.
Jon Gartenberg
Jon Gartenberg is a film archivist, distributor, and programmer. He worked for nearly two decades as a curator in the Film Department of The Museum of Modern Art, where he initiated the restoration of the films of Andy Warhol and acquired experimental films for the permanent collection. As Program Director of Film Preservation for the Estate Project for Artists with AIDS, he oversaw the restoration of the complete oeuvre of Warren Sonbert, as well as selected films by David Wojnarowicz, Curt McDowell, and Jack Waters. Since 2003 he has programmed experimental films for the Tribeca Film Festival He has also produced short films by Ken Jacobs and Jeff Scher.