Born 1944 in Valencia, Spain, where she lives and works.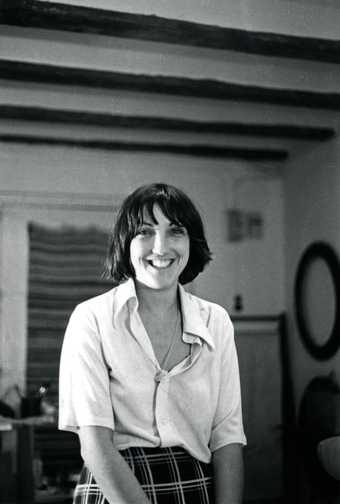 Ángela García's practice developed alongside that of neo-figurative groups such as Equipo Crónica and Equipo Realidad, whose quest to democratise art and establish a Spanish identity led them to draw images from Spain's heritage in dialogue with the contemporary mass media. García, conversely, sought to question the identity of the Spanish woman. One of her main sources was the magazine Triunfo (1946–82), which addressed issues such as sexual liberation, the role of women and marriage, and also provided Equipo Crónica and Realidad with key iconographic references. While Francisco Franco's death ushered a discursive expansion of gender issues, García examines in her work the 'crafts' normally associated with femininity, never elevated to the status of fine art. Throughout the decade she exhibited periodically in Spain, especially at Val I 30 Gallery in Valencia, yet her work has been largely undervalued as a woman within the neo-figurative movement.
Confronting women's struggle for autonomy in Francoist Spain, Ángela García's paintings from the early 1970s are characterised by a deconstruction of the female iconicity championed by the mass media. Following a phase of experimentation with the collage and silkscreen of found images, her Self-distraction, Divertimento and Breathing out, all from 1973, use acrylic paint on wooden panels to depict truncated and abstracted female bodies. García's 'market flesh' rendition of nudes challenged accepted canons associated with beauty, traditionalism and propriety, advocating the sexual liberation of women. By abandoning the aesthetics of the commercial media and presenting unadulterated and eroticised images of women, these works demystify the stereotypes that associated femininity with fairy tales, soap operas, popular magazines and beauty pageants, which were considered the only acceptable public arenas for women. While many of her contemporaries directly appropriated images found in the press, García championed fragmentation and discontinuity as critical tools to renegotiate representations of femininity.
Sofia Gotti
September 2015