Born 1938 in Bucaramanga, Colombia. Lives and works in Bogotá.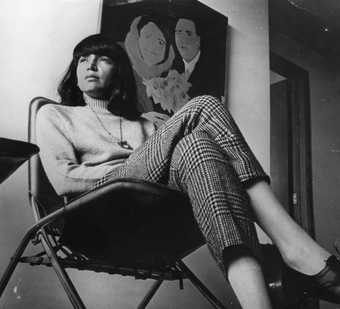 Considered one of the founders of Colombian art today, Beatriz González occupies a unique and distinctive position in South American art history. Growing up in the 1940s and 1950s, her work developed during a period of social and political upheaval known as La Violencia (the violence), which largely influenced her understanding of Colombian society. Following her studies in architecture and fine arts, González soon stood out from her contemporaries as one of the first painters in Colombia to draw inspiration from the mass media, inserting a dialogue between popular narratives and formal painting. She attracted the attention of critic Marta Traba who addressed her oeuvre widely in her writing. González's early works demonstrate a pronounced critique of the diluted academicism present in Bogotá. In particular the artist resisted the shared predilection for European art, a synonym for mastery and good taste that circulated through cheap black and white reproductions. 
Beatriz González's iconic work The Suicides of Sisga I, II, III 1965 appropriated a photograph left behind by two lovers who had drowned themselves in the Sisga dam – a sinister incident, reproduced in national newspapers. The couple, motivated by deep religious beliefs, had decided to end their lives together, to liberate her from sin and preserve both from evil. González, fascinated and moved by the story, borrowed the image to denounce its rootedness in the violent facet of Colombian identity, while critiquing its misuse by the media. In the early 1970s her reflection on consumption and materiality led her to incorporate mass-produced items within her paintings, once more using the 'impoverished' language of Colombian mass culture. In The Last Table 1970, the first work of an extended series, González incorporated a reinterpretation of Leonardo da Vinci's Last Supper into an average mass-produced faux wood table. The latter circulated widely as a cheap reproduction, a symbol of Colombia's Eurocentric gaze.
Sofia Gotti
September 2015