Born 1937 in Tusa, Romania. Lives and works in Cluj-Napoca.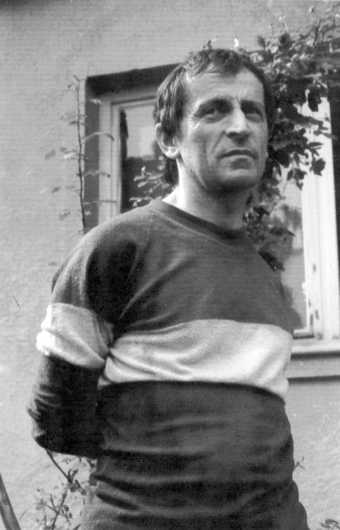 Cornel Brudaşcu studied at the Institute of Arts Ion Andreescu in Cluj, graduating in 1962. He is one of the few Romanian artists associated with pop art, and one of the mentors of the group of younger figurative painters known internationally as the Cluj School. In the 1970s he got acquainted with contemporary American art and consequently embarked on a series of portraits, of both his fellow artists from Cluj and of Western pop icons, based on images seen in Western newspapers and magazines. Nicolae Ceaușescu's Romania in the 1970s was the only period of his regime that was open to international exchanges, therefore even though travel abroad was banned, especially to Western countries, information about new experiments in art was disseminated. Counter-culture, music and art influences were experienced both through Western magazines found in reading rooms, or via informal networks of shared information. The German magazine Popcorn, for instance, provided a point of departure for some of his paintings, as well as his own experiments with solarised photography.
Cornel Brudaşcu's paintings from this period include Guitarist, Youth On the Building Yard, Composition, Group Portrait and Portrait, all from 1970. They use pop art's block colour and flat surfaces, but depart from pop's sharp edges in the use of blurred boundaries and lack of definition. His compositions often feature family members and close friends from his artistic milieu as, for example, in the painting Portrait (Ion Munteanu) dedicated to the deceased artist and close friend. At the same time, his paintings speak to the political context in which they were made under Communist rule in Romania. The title and narrative theme of Youth on the Building Yard, for example, is characteristic of official proletcult art of this period, whose ideological imperative was to form a new culture that would reflect the spirit of the collective and the desire to build a new Communist society. Brudaşcu's striking use of bright colour and his experimental use of photography, however, mark a departure from the ideologically sanctioned art of this period. 
Lina Džuverović
September 2015