Born 1946 in Paris, France, where she lives and works.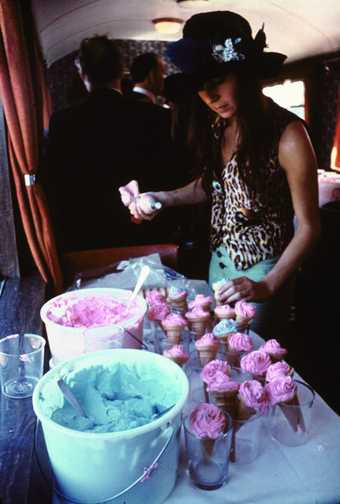 Dorothée Selz's oeuvre is focused on an interrogation of the ephemeral as manifest by her espousal of the edible in her work. Directly influenced by the context and spirit of the late 1960s, May 1968 events and counter-culture movements, her early work bears the impact of the artistic experimentation of these years. At first working with collages of magazine photography and street posters, she soon decided to turn towards a new popular material, the edible. In 1969, with fellow artists Antoni Miralda, Jaume Xifra and Joan Rabascall, she organised her first ritual performative dinner, which was followed by other similar events in the 1970s. Selz's use of the edible, close to the Eat Art movement and the work of Daniel Spoerri, revolved around the idea that food offers the public a direct and immediate relation to its environment, the ephemeral artwork being consumed at these events. Her pictorial works, pursued in parallel to her edible works, re-appropriate and bring new life to popular, found imagery, emphasising the fleetingness of these images, often 'consumed' by the eye very briefly and thrown away immediately. 
In the wake of feminist movements and pop art, Dorothée Selz's series of Relative Mimetism 1973 appears as a humorous and critical series addressing the image of the 'seductive' woman as conveyed by fashion magazines, calendars or pop art works by Allen Jones. Placing side by side a photograph taken from an advertisement and a picture of Selz mimicking the image, the artist questions the very process of creation – and consequent desire – in consumer society. The conflation of the role of artist and model also highlights the artificiality of the constructed pin-up image. The brightly coloured frames, decorated with icing from piping bags, evoke children's crafts and edible ornaments. At a time when feminist movements were denouncing and rejecting the idealisation and objectification of women's bodies as conveyed by magazines, Selz's re-appropriation of popular imagery stages the ambiguous desire to both reject and resemble those icons.
Elsa Coustou
September 2015