Born 1932 Gudmundur Gudmundsson, in Olafsvik, Iceland. Lives and works in Paris, France.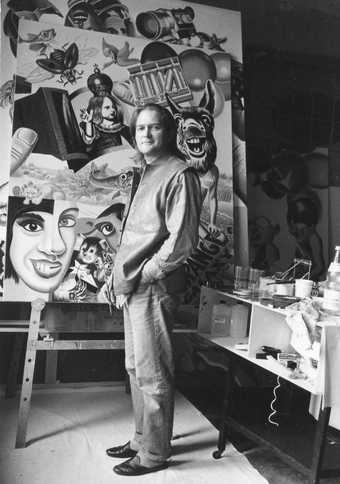 Erró was one of the radical artists of the late 1950s to early 1960s on the Paris art scene to commit to a newly figurative painting, critical of its socio-political context. After he left Reykjavik to study in Oslo and Florence, Erró settled in Paris in 1958, taking part from 1961 in new figuration exhibitions alongside Gérard Fromanger, Jacques Monory, Bernard Rancillac, Valerio Adami and Peter Klasen, among others. He notably participated in one of narrative figuration's seminal exhibitions, at Galerie Creuze in 1965. Seeking a de-mythologisation of everyday life in consumer society, Erró and his fellow artists manifested the power structures that constituted these myths by drawing awareness to the procedures behind image-making, and thus the manipulative power behind them. His visual vocabulary drew on popular imagery found in everyday life, political events and history of art, increasingly integrating comic-strip's language into his work. During several trips to New York in 1963-4 and between 1966 and 1971, Erró met American pop artists Roy Lichtenstein, Robert Rauschenberg and Jim Dine, among others.
The American Interiors series of 1968 shows the reversal of American military intervention by staging the invasion of peaceful and idealised American bourgeois home interiors by armed Viet-Cong and Maoist troops. These two opposite images, as found in the press, are juxtaposed to provoke critical awareness of media-constructed clichés as well as of reality. This series of political fiction denounces the American hysteria during the Vietnam War and Cold War. The collage technique enables Erró to reveal the way socio-political clichés are constructed and conveyed, as well as creating new narratives. Frequently re-appropriating art historical images, he paid tribute to old masters at the same time as he was affirming a new figurative and political art. With Big Tears for Two 1963, Erró revisits Pablo Picasso's Weeping Woman 1937 in a comic-strip style, which extends to the work a tragicomic effect.
Elsa Coustou
September 2015