Born 1935 Evelyne Devaux, in Namur, Belgium.
Died 1972, in Zwijnaerde.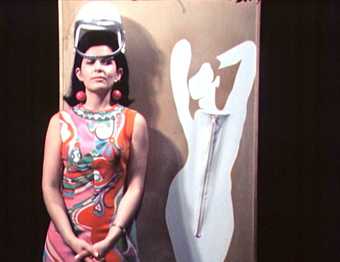 One of the first female European artists to fully embrace pop art from the mid-1960s, Evelyne Axell engaged, throughout her short career as an artist, with a proto-feminist depiction of the emancipation of woman's sexuality. An acclaimed theatre and film actress, Axell turned to painting in 1964, taking lessons with family friend René Magritte. Her husband, film director Jean Antoine, had just produced a documentary on American pop artists and, while filming another one, introduced Axell to British pop artists Patrick Caulfield, Pauline Boty, Peter Blake, Allen Jones and Joe Tilson. Fascinated by their work, Axell immediately drew on pop's visual vocabulary. In 1967, discovering plastic materials, she developed her signature technique, adapting her painting to the possibilities offered by the new material. Cutting female silhouettes into translucent plastic sheets and enamel painting, she created provocative works infused with desire and eroticism. From her early works until her premature death, Axell has depicted the female body and glorified female sexuality and fantasies.
Tackling the deep changes occurring within an increasingly disputed, gendered, social order, Axell's early works Licensed in Both Ways 1965 and Valentine 1966 depict the liberation of the female body and the uncovering of a feminist intimacy, within the context of the 1960s space race. Licensed in Both Ways builds on the motif of erotic voyeurism with added complexity: the viewer is at the same time being watched and invited to watch through the holes of the helmet, a metaphor for the head in which hidden erotic desires take place. The helmet is also present in Valentine, a direct homage to Valentina Tereshkova, the first woman to fly in space, who can be unzipped in this work, referring to the conquest of new territories, including uncensored sexuality. Also addressing social and sexual liberation, The Pretty Month of May 1970 is considered Axell's most political work. Framed by a self-portrait and a portrait of her friend, critic Pierre Restany, founder of nouveau réalisme, the revolutionary crowd of women in this triptych refers to the protest movements from May 1968. 
Elsa Coustou
September 2015