Born 1939 in Pontchartrain, France. Lives and works between Paris, France, and Siena, Italy.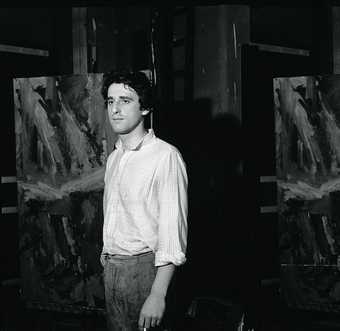 One of the pioneers of the return to figuration in the late 1950s and early 1960s in France, Gérard Fromanger became a leading figure of figuration narrative. Friend of sculptor César, with whom he shared a studio, and of Alberto Giacometti, Fromanger joined the figuration narrative artists at the Salon de mai in 1964 and 1965 and soon became involved in the Salon de la Jeune Peinture. Depicting urban environments and anonymous passers-by, his painting technique was close to photography. As a founding member of the Atelier Populaire at the Ecole des Beaux-Arts in Paris, he also produced various collective and political serigraphy works during the May 1968 events.
One of the works that Gérard Fromanger submitted to his peers at Atelier Populaire was the first serigraphy of his Album The Red 1968, depicting the French flag with the red stripe dripping across the rest of the lower portion of the flag suggesting the loss of blood. Although the work was rejected, he created a series of twenty other serigraphs to accompany this first work. Developing the thematic of the flag, Fromanger realised nine other serigraphs of capitalist and communist nations' flags, the red elements of which are dripping, along with serigraphs of scenes of urban protests in which the figures are transformed in red silhouettes. From these anonymous urban scenes, he reused the red silhouettes throughout his future work. When presented for the first time to the public, this series of silkscreens was quickly hailed as a milestone for the political and subversive stance it embodied. The filmmaker Jean-Luc Godard, drawn to this series of works, asked Fromanger to create with him what became their ciné-tracts, a series of short films based on Album The Red such as his Film-tract No. : 1968. From 1970, widely acclaimed globally, Album The Red established not only Fromanger's artistic career, but also reinforced the divergence between the figuration narrative artists, whose approach to art was distinctively politicised, and the American pop artists' approach. 
Elsa Coustou
September 2015