Born 1929 in Uzerche, France. Lives and works in Paris.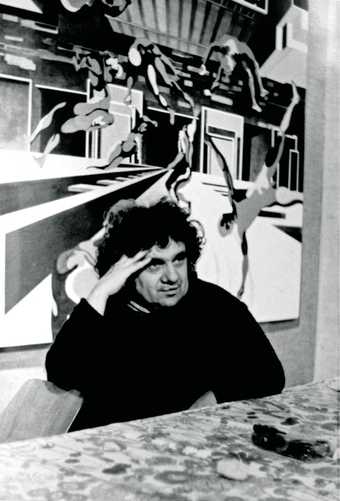 A painter associated with the figuration narrative group of artists in France in the 1960s, Henri Cueco has been concerned, since the beginning of his career, with the socio-political role of the artist and the construction of images. Copying nature from a young age, Cueco started re-appropriating photographs from magazines and books from 1964, giving painting a political function. Questioning bourgeois post-war society and his desire for social rupture, his work is also marked by his affiliation with various collaborative practices. A member of the French Communist Party from 1956 to 1976, his militancy is seen in his prominent role in the annual group exhibition Salon de la Jeune Peinture, organised to generate collective discussion around painting and creative processes and content. He also developed his work at this time with the Atelier Populaire in May 1968 in Paris, and through the collective work of the Coopérative des Malassis, which he co-founded in 1970.
Exhibited with his series The Red Men at Musée d'art moderne de Paris in 1970, Large Protest 1969 and The Red Men, bas-relief 1969 are part of a body of works that reflects Henri Cueco's concerns and affiliation with figuration narrative artists, who distinguished themselves from American pop artists by deliberately focusing on political themes. This series of red men evokes the political context of the May 1968 protests, the Vietnam War and the Western fear of communism in the context of the Cold War. Around a female figure, an allegory of revolution, several silhouettes spring out of the painting in The Red Men, bas-relief. Fragmented in Large Protest, these cut-out figures drawn in comic-strip style float suspended above the floor, creating a dreamy atmosphere. Having worked with a theatre company, Cueco uses theatre lighting in this installation, accentuating the dramatic effect of the floating figures' projected shadows. Taken from images found in magazines, newspapers and books, these figures were inspired by Cueco's interest in Marxist theories and his reading of Claude Levi-Strauss's anthropological writing, as well as by Raymond Roussel's fantastical universe.
Elsa Coustou
September 2015