Born 1946 in Valencia, Spain, where she lives and works.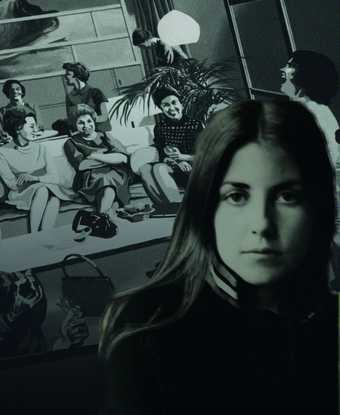 In 1965 Isabel Oliver began her training at the Facultad de Bellas Artes of Valencia. Between 1970 and 1971 she began experimenting with figurative painting, which increasingly defined her visual trajectory. In 1971 Equipo Crónica, the noted collective founded by Rafael Solbes and Manuel Valdés in 1965, noticed Oliver's work and invited her to join them. Under the umbrella of estampa popular – a group that ushered in a return to figuration during Francisco Fanco's regime – Equipo Crónica sought to appropriate the language of the mass media in order to highlight issues tied to Spanish national identity. Inspired by Andy Warhol's Factory, Equipo Crónica produced paintings collectively, in order to eliminate individual authorship. Before and throughout the period of collaboration with Crónica, Oliver produced a parallel body of work about the portrayal of women in Spanish society. While Crónica questioned what it meant to be Spanish, Oliver questioned what it meant to be female.
In the series The Woman 1970–3 Isabel Oliver portrays women in domestic or imaginary scenes in order to critique their role in Spanish society. By using the impersonal figurative aesthetic of the mass media, Oliver sought to examine how commercial culture shaped common perceptions of femininity. Beauty Products and Surgery respectively depict a woman sprinting over a sea of cosmetics and another undergoing plastic surgery. The disturbing tableau vivant question the paradoxical expectations of women's appearance. The Family and Happy Reunion reproduce domestic scenes in which the notion of appearance is once again confronted through the lens of social norms and behaviours. In The Family, the parents of a family of four, beneath the outline of the board game Parchís, seem visibly disinterested despite their nudity. Happy Reunion presents a group of women conversing in a living room. The macabre palette and the expressions of the women in the group suggest the notion of a façade upheld by society. Lastly, It is a Girl portrays the negative photograph of a toddler (the artist's mother) posing for a portrait at the end of the nineteenth century, a symbol of a secular sedimentation of values associated to femininity. 
Sofia Gotti
September 2015