Born 1933 in Tel Aviv, Israel.
Died 1977, in Tel Aviv.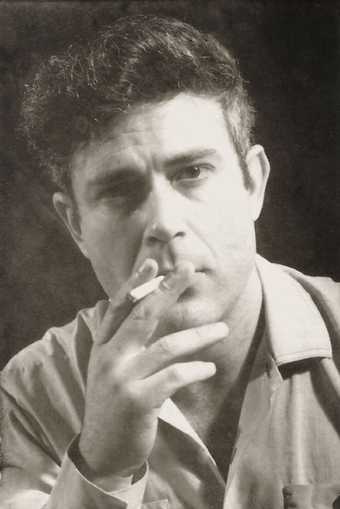 Joav BarEl was a Tel Aviv-based multidisciplinary artist, art critic, writer and lecturer. He studied psychology and philosophy at Tel Aviv University and subsequently clinical psychology, graduating in 1969. In parallel with his artistic practice, he remained active as an art critic and lecturer, profoundly impacting future generations of Israeli artists.
In 1965, alongside follow artists Raffi Lavie, Ran Sheckori and several others, BarEl formed the group '10+', a gathering of rebellious young artists looking to 'shake up' what they deemed to be a stagnant art scene dominated by lyrical abstraction. Their guiding principle was the idea of 'doing things differently' aiming to transcend the artists' individual styles through collaboration and non-conventional exhibitions.
Joav BarEl's artistic practice was eclectic, encompassing pop art paintings, expressionistic stone and plaster reliefs, ink drawings, installations as well as works on paper inspired by Franz Kafka's stories. Strongly influenced by American pop art, between 1967 and 1970 BarEl produced acrylic paintings, collages and photographic transfer works using magazine advertisements as his source. In his paintings BarEl used industrial spray paint and primary colours, often playing with the visual effects of complementary glowing colours. His painting Kennedy Assassination 1968 was first shown at the Political exhibition organised by '10+' in Tel Aviv and received critical responses due to its overtly political nature. The work consists of a schematic depiction of a male profile, painted in blocks of phosphorescent orange and green, the face framed by a target. An arrow diagrammatically tracing the path of the bullet that killed John F. Kennedy is shown across the neck. Aside from references to Jasper Johns's target paintings and Andy Warhol's 16 Jackies series, the work also uses the well-known diagram associated with the 'magic bullet theory' that developed around Kennedy's assassination.
Lina Džuverović
September 2015