Born 1933 in Conehatta, Mississippi, United States of America. Lives and works in New York City.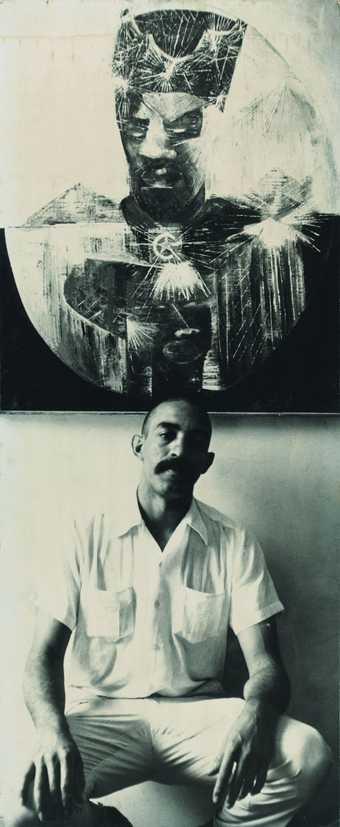 Joe Overstreet moved from his native Mississippi to California as a child. He studied at Contra Cost College and the California College of Arts and in the 1950s. He was mentored by the sculptor Sargent Johnson, a passionate advocate and supporter of black artists. In 1955 Overstreet moved to Los Angeles and started working for Walt Disney as an animator. The repetition involved in hand-drawn animation soon proved frustrating, and in 1957 Overstreet moved to New York City where he designed department store windows while also studying art. He soon immersed himself in the Harlem artistic scene, working as an art director for Harlem's Black Arts Repertory Theater/School, becoming an advocate for African-American artists' rights. His work at the time was abstract expressionist. With the 1964 Civil Rights Act and Overstreet's engagement with the civil rights movement, his work shifted towards protest painting. Works such as Strange Fruit c.1965, based on Billy Holliday's anti-lynching song, and The New Jemima 1964 directly address black oppression, challenging stereotypical images of blackness. In 1974 Joe Overstreet founded Kenkeleba House on the Lower East Side, an alternative gallery space dedicated to exhibiting work by African-American, Latino, Asian-American and Native American artists, which he still runs and where his studio is based today.
The New Jemima 1964 reimagines the racist stereotypical image of Aunt Jemima – a quintessential black servant who cooks, cleans, and looks after the children and the house, originally inspired by the Mammy character in Southern literature and the 'Minstrel Shows'. The New Jemima in Overstreet's painting is imbued with agency, fuelled by black pride and anger at centuries of oppression. His Jemima is a powerful figure, confidently gazing at the viewer, machine gun in hand, ready to fight for her rights. The 'Made in USA' sign in the painting is a reminder of the need to acknowledge African-Americans as equal citizens. 
Lina Džuverović
September 2015