Born 1937 in Bratislava, Slovakia, where he lives and works.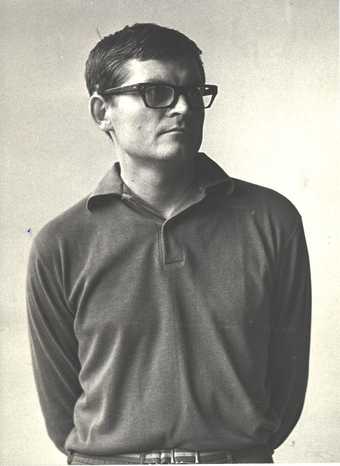 Since the early 1960s, Jozef Jankovič's work has been marked by his attempt to claim the place of the individual within a repressive political regime. After studying at the School of Applied Arts in Bratislava, where socialist realism was imposed, he graduated from the Academy of Fine Arts in Bratislava in 1962. To bypass official control on visual art activities, Jankovič participated until 1964 in the private exhibitions organised by the Confrontations movement, an informal association of visual artists. His early sculptures and reliefs integrated found objects similar to those seen in the works of artists in the nouveau réalisme movement. Oscillating between figurative and abstract forms, Jankovič's works of the 1960s include characteristic motifs of fragmented, deformed and atrophied body parts. Another recurrent motif is the imprisonment of his faceless human forms in metallic structures or under coloured polyester layers on canvas, in nets or in a fragile state of balance. While also creating memorial monuments for public display, Jankovič saw his work barred from all public exhibitions by the government during the Normalisation regime (1969–89), leading him to find alternative strategies of production. These included architectural designs, jewellery and computer graphics. 
Private Manifestation 1968 was made as an attack directed towards official demonstrations, at which the public was encouraged to hold portraits of Vladimir Lenin, Karl Marx or Joseph Stalin. Combining sculpture and painting, as in many of his works from the 1960s, in Private Manifestation Jozef Jankovič rebels against the regime not only by replacing the socialist icons with a self-portrait, but also by depicting himself with a radically anti-socialist realism treatment, inspired by pop art. Speaking for the masses of individuals, Private Manifestation criticised a regime of censorship and the cult of personality.
Elsa Coustou
September 2015