Born 1939 in Chicago, United States of America. Lives and works in New Mexico.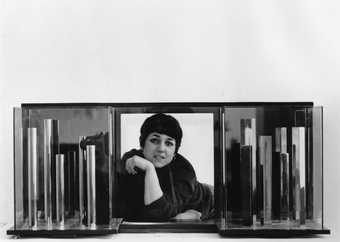 Judy Chicago is an artist, author, feminist and educator whose career spans five decades. Chicago studied at the University of California, Los Angeles, graduating with a Master's Degree in painting and sculpture in 1964. In 1970 she launched the first feminist art programme at the California State University, Fresno. At the same time, Chicago dropped her birth name in favour of her birthplace, as a gesture of breaking away from the patriarchal tradition of a woman taking their father's or husband's name. Chicago works across media, often using traditional crafts such as needlework and china-painting. She has sometimes enlisted the participation of hundreds of people to create monumental works which are realised collaboratively over a number of years. The unifying goal of her work is to make a place for female-centred imagery and to overcome the erasure of women's achievements in art and society. Chicago's most influential work, and a milestone in twentieth-century art, is the iconic installation The Dinner Party 1974–9, today a permanent exhibition housed at the Elizabeth A. Sackler Center for Feminist Art at the Brooklyn Museum.
Bigamy Hood, Birth Hood and Flight Hood 1965/2011 are painted car hoods sprayed with acrylic automotive lacquer. The brightly coloured patterns are created by redeploying the techniques that Judy Chicago learned at an auto-body school in Los Angeles, which she attended as a student – the only woman in a class of 250 men. The work appropriates the car hood, a symbol of machismo, to address the challenges that she encountered both in the art world and the custom car shop in LA. The pattern and colouring evoke both male and female forms, in her effort to both 'feminise' a traditional icon of masculinity and establish a gender balance in the work, which reflects her long-standing goals as an artist. 
Lina Džuverović
September 2015