Born 1935, Graz, Austria.
Died 1997, Vienna.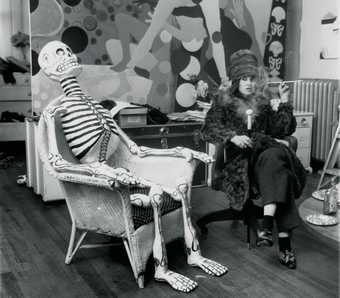 Turning away from European abstraction and the Viennese avant-garde art scene, Kiki Kogelnik moved to Santa Monica in 1961 and relocated to New York in 1962, where she met American pop artists Roy Lichtenstein, Andy Warhol, Tom Wesselmann, Robert Rauschenberg and Claes Oldenburg, among others. Influenced by their works, she became increasingly fascinated by new technologies and newly available materials. With a humorous and feminist take on a male-dominated art scene, she explored the human body and the construction of the self within the booming technological environment of post-war consumer society. Experimenting with found objects, assemblage, plastic and vinyl, while also spraying and printing on paper, Kogelnik developed a new visual language, increasingly characterised by weightlessness and the flattening of the human figures. This can be seen in her signature Hanging works and cut-out silhouettes of her friends, developed from the early 1960s.
This series of cut-out Hangings originated in her early works on paper – on which Kiki Kogelnik traced the life-size contours of her friends, among them Lichtenstein and Oldenburg – before she started using vinyl. Parts of this body of works – Fallout c.1964, Hanging 1970 and Friends 1971 – display dismembered, brightly coloured forms. Alluding to the technological developments of the space race and the presence of humans in space, they question the dehumanisation and faceless social skin of the individual self within a mass-consumerist society marked by violent political conflicts. With humour, she also points to international conflicts of the early 1960s in her work Bombs in Love 1962, a sculpture of two found bomb casings, which she painted with bright colours, referencing the 'Love & Peace' generation, and reinterpreting the symbolic of Eros and Thanatos. 
Elsa Coustou
September 2015