Vitaly Komar: Born 1943 in Moscow, Russia (former USSR). Lives and works in New York, United States of America.
Alexander Melamid: Born 1945 in Moscow. Lives and works in New York.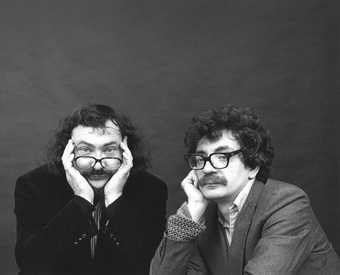 Vitaly Komar and Alexander Melamid are Moscow-born artists who emigrated to Israel in 1977 and then to New York in 1978. The two artists first collaborated on a joint exhibition entitled Retrospectivism in Moscow in 1967, and from 1972 started signing all their works with both names, regardless of whether they were made collaboratively. They continued to collaborate until the early 2000s, referring to their work as 'not just an artist, but a movement'. Komar and Melamid are the founders of Sots-art (socialist art), a critical, nonconformist, conceptual form of pop art, based on the appropriation and subversion of socialist realist iconography and street propaganda, creating humorous, often grotesque, posters, paintings and banners. Both artists took part in the notorious 'Bulldozer Exhibition' held in a vacant plot in Moscow's Belyayevo in 1974, which showcased nonconformist art by Moscow avant-garde artists that was swiftly destroyed by the authorities with bulldozers and water cannons.
Post Art 1973–4 is a series of six paintings depicting canonical pop art works by Andy Warhol, Roy Lichtenstein, Jasper Johns, Robert Indiana, Tom Wesselmann and Peter Phillips, portrayed as if they had undergone severe physical damage by war, fire or an earthquake. The aesthetic of the works is reminiscent of the decay of frescoes, bringing into question the artistic value of canonical artworks over time. Post Art No 1 (Warhol) is a discoloured, frayed fragment of Andy Warhol Campbell's soup can, while Post Art No 2 (Lichtenstein) and Post Art No 3 (Indiana) apply the same treatment to one of Lichtenstein's comic strips and Robert Indiana's circular motifs respectively, rendering the works barely legible, but nevertheless recognisable.
Lina Džuverović
September 2015