Born 1931 in Poznan, Poland.
Died 1999 in Kraków.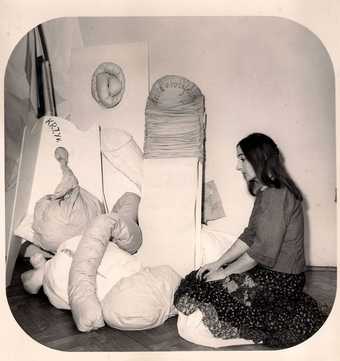 Maria Pinińska-Bereś was a Kraków-based artist whose work encompassed performance, sculpture and installation. She studied at the School of Art in Katowice and the Academy of Fine Arts in Kraków, graduating in sculpture in 1962. Pinińska-Bereś initially made figurative sculpture but by 1965 her practice shifted towards abstraction and the use of soft, lightweight materials as a 'medium close to women's practice'. From this point on, in her immersive, often dimly-lit environments, Pinińska-Bereś explored gender difference in a patriarchal, increasingly consumerist society by tapping into what she referred to as a 'reservoir of femininity-related' issues. Her installations featured fleshy, organic quasi-bodies placed inside display cases. With a pop art sensibility of appropriating non-art materials for her immersive installations, the artist claimed domestic processes by combining papier mache, sewn or quilted materials, cushions and sponge trimmed with fabric. Although Pinińska-Bereś did not wish to be associated with feminism, following a negative response to her early 'soft' works, she is nevertheless considered as one of the feminist pioneers in Poland alongside her slightly younger fellow Polish artists Natalia LL and Ewa Partum.
In 1968 Maria Pinińska-Bereś began a body of work entitled Psycho Furniture, shown at the exhibition Women's Art at the Galeria ON in Poznan. The series addressed the objectification of women for the benefit of male pleasure, featuring sewn pink shapes fashioned after female body parts, combined into absurd, utilitarian machines aimed to serve, despite their owners' dismemberment. One of them, Love Machine 1969, invites the user to turn a handle on a box, as if grilling meat. The handle activates a sinister 'machine' consisting of shapes reminiscent of woman's sexual organs, a pair of breasts and three legs that turn endlessly as if they were a propeller. In Screen 1973 a soft organic bright pink shape can be seen, as if hiding behind a white partition with the words 'screen' – 'is good' – 'for everything' scrolled onto it, suggesting the hypocrisy involved in 'screening off' female subjectivity.
Lina Džuverović
September 2015