Born 1943 in Buenos Aires, Argentina, where she lives and works.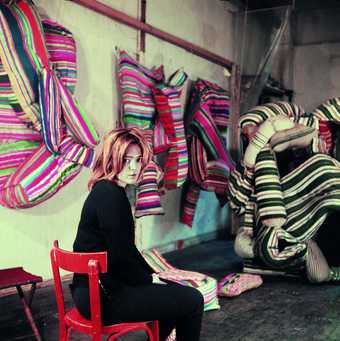 After attending the National School of Fine Arts, Marta Minujín frequented the studio of informal painter Jorge López Anaya, where she developed her first canvases. As a very young student, in 1961 Minujín travelled to Paris where, with the guidance of her mentor Alberto Greco, she began to develop a participatory vocabulary. From the mid-1960s Minujín became one of the most energetic contributors to the pop art scene in Buenos Aires. In 1964 she won first prize at the yearly national awards of the Torcuato Di Tella Institute with her seminal work ¡Revuelquese y Viva! (Roll Around and Live!, 1964), a construction made of hand-painted mattresses that invited the viewer to release his/her inhibitions and roll within the object/sculpture. Throughout her practice Minujín explores the value of participation in the redefinition of art's purpose.
Mattress 1962 is one of Marta Minujín's earliest experiments with the manipulation of mattresses into sculptural interactive forms, which took place in Paris in the early 1960s. The hand-painted colourful objects emerged from an interest in urban debris and found objects. Their malleable quality soon led Minujín to further investigate their participative potential, a pursuit which characterised her oeuvre throughout the decade. La Menesunda 1965 is a project she conceived in collaboration with Rubèn Santantonín, Pablo Suárez, Floreal Amor, Rodolfo Prayon, Leopoldo Maler, David Lamelas and others associated with the Torcuato Di Tella Institute in Buenos Aires. One of the most celebrated works of the decade, La Menesunda consisted of a visual itinerary made of sixteen environments: these included a room with a couple in bed, a dental surgery, a walk-in freezer and a beauty salon housed in a structure in the shape of a woman's head. La Menesunda sought to transform the passive spectator into an active participant. Over 30,000 visitors flocked to see Minujín's curious environment, seeking to experience the irreverent yet playful spirit that pervaded the Di Tella Institute.
Sofia Gotti
September 2015