Born 1937 in Żywiec, Poland. Lives and works in Wrocław.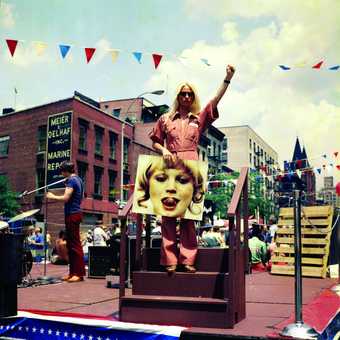 Natalia Lach-Lachowicz, or Natalia LL, is a pioneer of feminist art in Poland. LL's photographs, drawings, moving image works and installations have from the outset addressed the female subject in a patriarchal, increasingly consumerist society, and as a result she was soon noticed by Western feminist critics, including Lucy Lippard, providing her with international exhibition opportunities from the mid-1970s onwards. LL studied at the PWSSP (today the Academy of Fine Arts) in Wrocław, graduating in 1963. In 1970, she co-founded PERMAFO (short for permanent formalisation) Gallery in Wrocław, with fellow artists Zbigniew Dłubak, Andrzej Lachowicz and Antoni Dzieduszycki, which was set up as a home for artists' experiments in photography.
Using photography to depict small, everyday actions such as eating, sleeping, copulation, resting and speaking, LL introduced the notion of 'permanent registration' seeing art as 'a process that generates successive phases of reality', rather than a sphere divorced from the everyday. As one of the most prominent conceptual artists in Poland, she was critical of conceptualism's cold, rational detachment from physical sensuality and the everyday, which led her to incorporate popular culture and the possibilities of mechanical registration and distribution into her work.
Following the Permanent Registration body of work (1970–2), Natalia LL embarked on a series of film and photographic works entitled Consumer Art 1972–5 – a critique of the commodification of women's bodies in pornography. The sixteen-minute silent film Consumer Art 1972 features young, attractive female models provocatively eating a variety of suggestively shaped foods, emulating the style of pornographic films. The women gaze at the camera seductively as they perform the erotically charged 'play' with bananas, sausages, ice cream and other food filled with sexual innuendo. Unlike pornography, in Consumer Art the models are given agency, their actions teetering between seduction and humour, as they gaze back, reversing the dynamics from objects of male gaze and consumption, to being active protagonists in control of the situation.
Lina Džuverović
September 2015