Born 1944 in Lauenburg, Germany.
Died 1968 in Frankfurt am Main.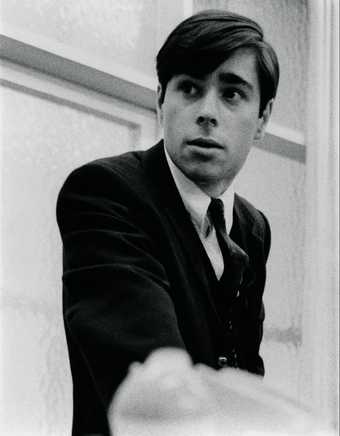 Despite having only a brief artistic career, spanning from 1962 to 1967, Peter Roehr left behind him a prolific oeuvre of pioneering collages, photo and sound montages and films. Refusing to belong to any artistic movement of the early 1960s or to the then emerging art scene in West Germany, Roehr developed a proto-conceptual practice borrowing from pop art and minimalism. His practice was based on the principle of serial organisation and montage, focusing on the effects produced by unvaried repetition. In order to achieve the impression of sameness, Roehr used industrially manufactured products. For his Film-Montages 1965–8 he had access to spots from American television commercials, which he manually mounted to create a series of short films comprising approximately ten identical short sequences. His re-appropriation of advertisements for mass-consumption products was aimed at dissolving the original message.
The twenty-two short films that constitute Peter Roehr's Film-Montages I–III 1965 are repeated sequences taken from television spots. Both the sequences of images and their accompanying soundtracks are repeated about ten times, with the effect of a skipping record. Lights in a car tunnel, views of skyscrapers, cars passing by, a woman flicking her hair, two men wrestling: all of the brief excerpts, when repeated, acquire a self-referential dimension. At first the clip is clearly anchored in a specific context, such as that of an advertisement, but its repetition creates a distancing effect from the original image, which no longer refers to an external reality. The images lose their referential and representational power, each sequence referring to the one before, creating at the same time anticipation in the viewer's mind and an effect of difference among sameness. Similarly, the Sound Montages I+III 1966 are repeated sequences of audio clips taken from German and American advertisements.
Elsa Coustou
September 2015