Born 1935 in Toledo, Spain. Lives and works in Madrid.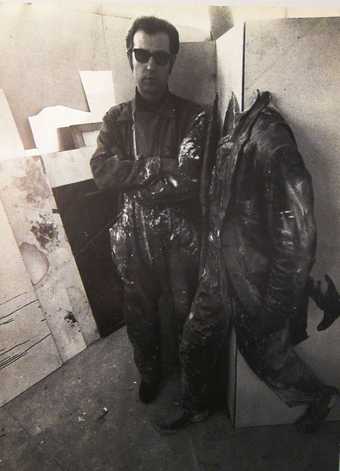 After the Spanish Civil War and a period of transition, Rafael Canogar and his family took up residence in Madrid in 1944. He began his training with painter Daniel Vázquez Díaz, with whom he mastered a figurative language inspired by the work of Georges Braque, Pablo Picasso and Joan Miró. In 1954 Canogar began to experiment with abstraction and informalism, motivated by Michel Tapié's call for a collective art phenomenon. His canvases, increasingly monochromatic, sought to achieve a balance between form and matter, between formal and informal painting. Within this trajectory he formed the group El Paso (1957–1960) alongside Luis Feito, Manolo Millares, Manuel Rivera and Antonio Saura among others, which ushered in a key phase in the modernisation of the Spanish avant-garde. Following a trip to the USA in the early 1960s, and a peak in his international recognition in 1964, Canogar abandoned informalism, which had become assimilated by Francisco Franco's regime as 'official' art.
The Punishment 1969 typifies a key aspect of Rafael Canogar's practice from the 1960s. Owning the vocabulary of narrative figuration, which had begun to spread among the Spanish avant-garde of the time, his work invoked the aesthetics of commercial culture and of the mass media. Yet, in contrast with his contemporaries (including Equipo Crónica and Equipo Realidad), his subjects did not exist within an iconographic superstructure, but were deeply rooted in social realities. Using wood and polyester reinforced fibreglass, Canogar escaped the boundaries of the canvas adding three-dimensionality, volume and flesh to his figures. The Punishment represents a man being beaten by a policeman, which would not have been an unfamiliar scene in the late 1960s. The disturbing vignette, which physically invades the viewer's domain, was interpreted as a wakeup call to engage with the social unrest that defined those turbulent years in Francoist Spain. 
Sofia Gotti
September 2015