Born 1927 in Ciego de Avila, Cuba.
Died 1995 in La Havana.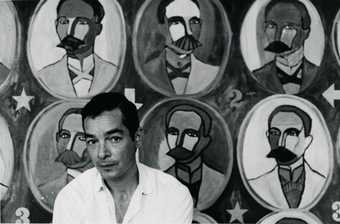 Raúl Martínez was the leading Cuban artist after the revolution of 1959. The son of a sugar mill worker and a teacher, Martínez moved to Havana in 1940 where he began his fine art training at the San Alejandro Academy. Encouraged by abstract artist Sandu Darie, and after reading Vision in Motion by Bauhaus professor László Moholy-Nagy, Martínez enrolled in the Chicago Design Institute where his canvases took an abstract expressionist turn. In 1953, back in Cuba, he joined the group Los Once with whom he exhibited until 1956. Establishing his presence within the Havana avant-garde, Martínez also worked as a freelance graphic artist for magazines and publishing houses. Between 1960 and 1961 he was appointed artistic director of the cultural magazine Lunes de Revolución, and in the following years he also participated in the foundation of the Cuban Film Institute (ICAIC) and the Cuban Book Institute.
The large-scale painting Listen America c. 1967 is emblematic of an abrupt stylistic shift in Raúl Martínez's oeuvre. After deciding to take a break from painting in 1966, he focused on his work in graphic design, a medium he considered more socially relevant. Having observed the visual impact of the murals and graffiti that appeared across the island to celebrate the revolution, he returned to painting in 1967, renouncing abstraction in favour of a more direct aesthetic language. Together with paintings of revolutionary heroes Che Guevara and Camilo Cienfuegos, Listen America was one of Martínez's first figurative artworks to seek to capture the popular revolutionary fervour. While maintaining a connection with modernist abstraction, evident in the use of repetition within a grid-like structure, his depiction of Cuba's leader Fidel Castro in a naïve painterly style rendered the work intelligible and connected it to local folk tradition. Immortalised during one of his memorable speeches, Martínez's Fidel salutes America, transmitting Cuba's revolutionary message. 
Sofia Gotti
September 2015