Born 1940 in Santiago, Rio Grande do Sul, Brazil. Lives and works in Porto Alegre.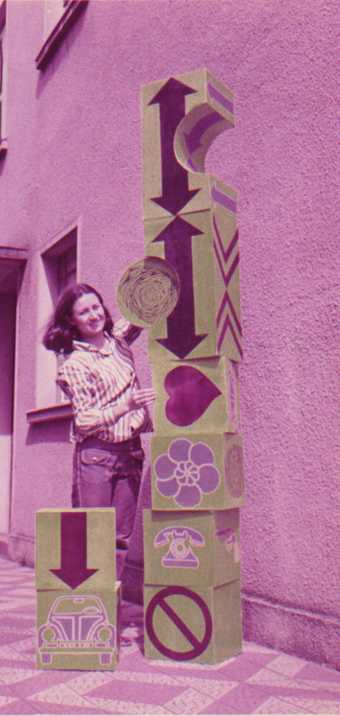 In the late 1960s Romanita Disconzi studied painting, drawing and printing in Porto Alegre with artists Ado Malagoli, Luiz Solari and Julio Plaza. In 1970, for her second solo show in Brazil at the North American Cultural Institute in Porto Alegre, Disconzi exhibited a series of silkscreens representing graphic symbols, emblematic of the first phase of her practice. In the 1970s Disconzi began to teach at the Instituto das Artes Plasticas in Porto Alegre and continued to exhibit internationally in Poland, Puerto Rico, at the second British International Print Biennial in Yorkshire and at the São Paulo Biennial X–XI.
In Interpretation Totem 1969, Romanita Disconzi uses arrows, guns, no-entry signs, hearts and telephones as building blocks of a semiotic system of her own assembly. The work consists of cubes, cylinders and various polygons that resemble children's toys on an enlarged scale, stacked in an unspecified order. The work invites viewers to 'figure it out themselves' and to establish a unique structure creating arbitrary associations and new meanings. By materialising an investigation revolved around semiotics, Interpretation Totem encourages the viewer to renegotiate the boundaries of a society increasingly defined by the images and norms established by the mass media. Disconzi appropriated graphic symbols in the pursuit of exchanging their immediate meaning with a reality of her own construction, while enabling the viewer/participant to do the same. Interpretation Totem is the first of a series of experiments that sought to decode, dismember and restructure semiotic systems.
Sofia Gotti
September 2015