Born 1935 in Iquitos, Peru. Lives and works in Lima.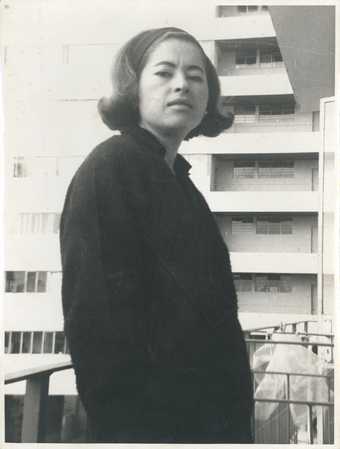 After completing her studies at the Catholic University of Peru in Lima, Teresa Burga joined the group Arte Nuevo (1966–8) alongside Luis Arias Vera, Gloria Gómez-Sánchez and Jaime Dávila, among others. Arte Nuevo is one of the most celebrated catalysts for the redefinition of art practices in Peru in the late 1960s. Burga's main concern in this period was to question and redefine accepted notions of femininity in relation to the mass media and domestic labour. Her early environments presented domestic scenes oversaturated by the colours and symbols of pop culture. Her female figures, painted over two-dimensional, bright surfaces – sometimes over furniture – parody portrayals of femininity, while humorously reminding the viewer of children's toys: dysfunctional apparatuses that pre-date her later investigations into diagrammatic representation.
Cubes 1968 is a collection of plywood blocks painted with graphic signs and partial depictions of female bodies. The modular objects reflect on the idea of the 'system' as intended by Jorge Glusberg, luminary and director of the Centre of Art and Communication (CAyC) in Buenos Aires. Understood as an organism formed of singular entities that relate to one another dynamically, yet only within a given structure, Teresa Burga's cubes originate a semiotic game where meaning is never univocal. By suggesting a multiplicity of arrangements, Burga's dynamic visual narrative experiments with the deconstruction of information and understanding. The palette and iconography reference the pop culture motifs of her larger environments. Like many works produced in this period, Cubes was made in collaboration with third parties. Burga sought to explore notions of mechanisation and division of labour so as to eliminate traces of feminine subjectivity and artistic gesture.
Sofia Gotti
September 2015