Born 1941 in Stuttgart, Germany.
Died 1970 in Beilstein.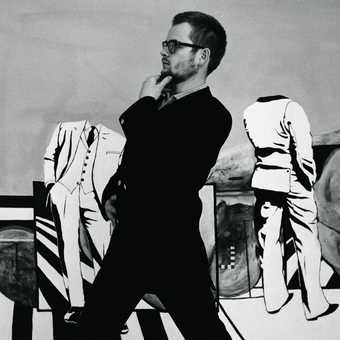 In only nine years of art production, autodidact Uwe Lausen created a provocative and stylistically hybrid body of paintings that translate the tensions and contradictions inherent in postwar Germany. From 1960, in reaction to the middle-class milieu where he grew up and the socio-political context of West Germany, Lausen developed a personal vocabulary. His exploration of the human figure is haunted by the cohabitation of younger and older generations, the latter held responsible for Third Reich politics. His paintings conflate many influences, from Francis Bacon to British pop artists Peter Blake and Allen Jones. Close to the SPUR group of artists based in Munich, Lausen lived in Hans-Peter Zimmer's studio and met the revolutionary Situationist International group in Paris in 1961, taking part in their activities until his eviction in 1965. In an effort to reflect on and extract from the socio-cultural and political establishment of his time, Lausen created a singular pictorial language marked by his resolutely rebellious character and experimentation with drugs.
Uwe Lausen's painting Geometer 1965 is emblematic of his pictorial experimentation and re-appropriation of various stylistic influences. A complex work, Geometer is composed of two parts, seemingly of the same scene, from which unfold multiple readings. The headless and colourless suit, depicted in a comic-strip style, contrasts with the painterly female nude, whose pose evokes Gustave Courbet's The Origin of the World. This painting within the painting suggests the elaboration of a meta-discourse on the medium of painting. The pop archetype in the foreground both looks back and turns its back on the figurative and painterly, as well as the angular lines hinting at geometric abstraction in the background. Acknowledging artistic styles from the past, Lausen places the viewer in the same position as his metaphorical pop character: future artistic trends are also looking at this painting, which belongs simultaneously to the past. Recalling his beheaded Geometer, Lausen's Pilot 1966 depicts an anonymous war pilot, and applies the painterly and comic-strip technique characteristic of his paintings into sculpture, a medium he hardly ever used.
Elsa Coustou
September 2015