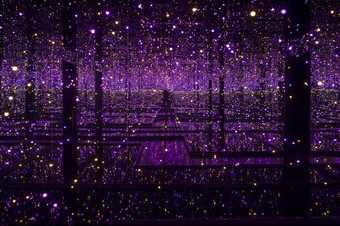 Listen to this article
Audio narration by Radhika Aggarwal
1. Introduction
Yayoi Kusama is a Japanese artist and writer. Across her career, she has made paintings, sculptures, performances and installations. For Kusama, the experience of art is about more than just looking. It can also be about stepping into the artwork and being immersed in it, as in her Infinity Mirror Rooms.
Kusama was born in Matsumoto, Japan, in 1929. This was a time of economic crisis and growing nationalism, when Japanese traditions and social conservatism were strongly promoted. She started making art as a child. Although her family discouraged her, she went on to study painting in Kyoto. Looking for 'unlimited freedom, and a wider world', she moved to the United States in 1957. She spent the 1960s in New York, immersing herself in the fastmoving art scene there.
She returned to Japan in 1973. Kusama has experienced mental health problems throughout her life and around this time she began to have acute hallucinations. In response, she admitted herself to a Tokyo hospital in 1977. She still lives there to this day, with her studio close by. 'I write novels and poems, and I also paint in the hospital. They are my saviours,' she reflects.
The images in this room chart key moments in Kusama's life and career. She has regularly had herself photographed with her works. Carefully staged images place her at the centre of her creative universe.
2. THE UNIVERSE AS SEEN FROM THE STAIRWAY TO HEAVEN
Peep through one of the windows into this mirrored sculpture. The space inside the cube seems to go on forever. Faces peering in – including our own – are
reflected infinitely alongside multicoloured circles.
From early in her life, Kusama has experienced visual hallucinations. She recalls a childhood memory: 'One day after gazing at a pattern of red flowers on the tablecloth I looked up to see that the ceiling, the windows, and the columns seemed to be plastered with the same red floral pattern. I saw the entire room, my entire body, and the entire universe covered with red flowers'. She felt as if she was disappearing or dissolving. She describes this as 'self-obliteration'. Using experiences like this in her art is a way for her to make sense of them and share them with others.
Mirrors, dots and repetition have long been important aspects of Kusama's work. This is one of her most recent sculptures, made specially for this exhibition. It recalls her first mirror installation, Kusama's Peep Show or Endless Love Show 1966.
The sculpture is balanced on its plinth. Please take care of this delicate work and do not touch.
3. CHANDELIER OF GRIEF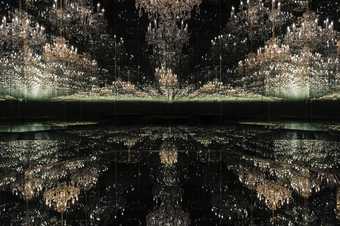 You're about to enter the first Infinity Mirror Room in this exhibition. Its white exterior blends into the gallery environment. But inside, the reflected space goes on forever. An ornate chandelier with flickering lights rotates from the ceiling. A never-ending field of lights surrounds you. Our reflections form part of the experience. This means every visit is unique.
Kusama called this work Chandelier of Grief. It suggests that we can experience beauty and sadness at the same time.
4. Walking Piece
Kusama moved from Japan to the United States, settling in New York City in 1958. In this performance, she walks around its empty, industrial streets. She wears a pink kimono and carries a parasol. The slide-show format presents her journey through the city in a sequence of images.
Kusama's childhood had been overshadowed by the Second World War, in which the US and Japan were on opposing sides. Racist anti-Japanese propaganda had been circulated in the US during the war. This continued to influence depictions of Japanese people and culture in the years that followed. These attitudes affected how Kusama's work was received. Critics often focused on her nationality and gender. Here she responds ironically by performing a US stereotype of a Japanese woman.
New York appears hard and unwelcoming to the character Kusama plays in this work. Walking Piece draws attention to the sometimes lonely experience of city living. The photographer Eikoh Hosoe documented the performance in a way which captures the feeling of being out of place. He uses a distorting fish-eye camera lens to heighten the sense of isolation within the work
5. INFINITY MIRRORED ROOM – FILLED WITH THE BRILLIANCE OF LIFE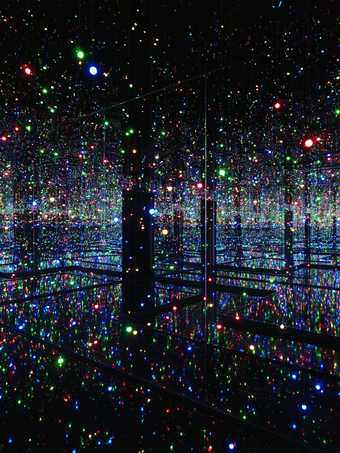 In this work, you'll move along a reflective walkway over a shallow pool. Around you, tiny dots of light are repeated endlessly in the mirrors and water. The lights pulse, like a heartbeat or a ticking clock. Even while we experience Kusama's infinite space, we are made aware of time passing. Kusama created this work for her 2012 retrospective exhibition at Tate Modern.
In Kusama's visual hallucinations, she becomes 'obliterated' by repeated dots. Here she invites us to share this 'selfobliteration'. The dots surround and engulf you, making it hard to tell where you end and where the rest of the room begins. Usually, when we experience art, there's a clear distinction between us and the artwork. But Kusama confuses this on purpose. To experience her mirror rooms, she asks us to become part of them.
6. Mirror Performance
The photographs and film in this section give a glimpse into how Kusama was working in 1960s New York. This is when she started making mirror environments. Today, tens of thousands of people around the world queue for hours for a chance to experience Kusama's mirrored rooms. But
when she started creating them, she struggled for recognition – and even to make a living.
These photographs show Kusama combining performance, painting and mirror installation. They document her live art event, Mirror Performance, which took place in New York in September 1968. This was a turbulent year in the United States. The country was at war in Vietnam, a conflict many opposed. Moral values were also changing. Women asserted their right to equality, seeking freedom to pursue careers and sexual relationships.
In Mirror Performance, Kusama reflects on US society at the time. Its visual excess is not an escape from reality. Instead, it's a way of understanding a culture focused on consumption and spectacle.
This series of photographs was created by Harry Shunk and János Kender. Together they recorded the work of some of the best-known artists and choreographers in the United States and Western Europe in the decades following the Second World War.
7. PORTRAITS BY EIKOH HOSOE
These portraits of Kusama were taken by Eikoh Hosoe, who also documented her performance Walking Piece. Hosoe often photographed experimental artists and choreographers in his native Japan. He aimed to capture people's inner worlds as well as their outer appearance. To do this, he used distortion and dramatic contrasts between black and white. In some of the images here, he also used double exposure, layering two images on top of one another. This could be a reference to the theme of repetition in Kusama's artworks.
8. In the Studio
This film shows Kusama in her New York studio in the mid-1960s. She is surrounded by the soft sculptures and collages she was making at the time. Faces cut from magazines become a polka dot environment. She uses domestic objects, including furniture and mirrors, even pasta. Making these familiar things strange or unsettling, Kusama's approach is akin to surrealist artists working earlier in the century.
The artist, filmmaker and lecturer John Jones made this film. He interviewed and filmed over one hundred US and UK-based artists in the 1960s. This unique archive, which Jones used in his lectures, is in the Tate Library & Archive collection.
As with other film and photography in this exhibition, the footage is clearly staged. Kusama has always carefully constructed her own image, posing in her exhibitions wearing outfits that matched her paintings and sculptures. Creating a distinct persona as an artist was particularly important for her as a Japanese woman experiencing sexist and racist discrimination. Refusing to be defined by others, she maintains a unique personal style, which contributes to her successful artistic 'brand'. She has said: 'I would stand up to them all with a single polka dot.'
Quiet Room
A quiet room is available for neurodiverse people, families or anyone who would like to spend some time away from the gallery environment. It's on this floor of Tate Modern, over the bridge in the Natalie Bell Building, in the Materials and Objects display. Please ask a colleague for more information.
MENTAL HEALTH RESOURCES
Yayoi Kusama's experience of mental illness has been an important influence on her art. The following organisations can provide support if you are experiencing problems with your mental health.