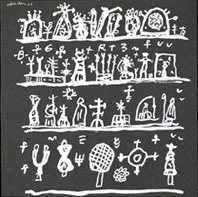 Alan Davie (born 1920) is a Scottish painter and was one of the first British artists to win international acclaim after the Second World War.
Jingling Space highlights the evolution of Davie's work from the 1930s to the present day, and offers fresh insights, particularly in relation to his interest in Surrealism.
In 1941 Davie won a travel scholarship, which he took up after completing war service. He travelled around Europe, where his work attracted the attention of the influential collector Peggy Guggenheim. On return to Britain, Davie's knowledge of European artists contributed to the development of his own work. In 1956 he exhibited in New York where he met Jackson Pollock, Franz Kline, Willem De Kooning, Robert Motherwell and Mark Rothko. Davie has continued to travel widely and exhibits extensively in Europe and the United States.
Early works on show include The Teapot 1938 and Landscape with a Bridge 1945. From the 1950s Davie freed himself from the conventions of picture making to create works that allowed the liberation of subconscious ideas inspired by Surrealism. Davie is also a jazz musician and often uses dynamic dancing forms in his large scale colourful works. Jingling Space 1950, from which the title of the exhibition is taken, is executed in an entirely spontaneous way. This work has direct musical connotations, which Davie has referred to in terms of strings, bells and percussion.
Much of Davie's work includes elements inspired by ancient, ethnic and religious cultures. Significant works exhibited at Tate St Ives include Creation of Man 1957, Kaleidoscope for a Parrot 1960, Holyman's Bird Meditation 1960 and Lush Life 1961. The chess board, wheel, serpent, moon and birds are amongst an array of frequently appearing motifs in Davie's later paintings, including Fairy Tree 1971 and Flight of the Flieblies 1973. There will also be a display of new works made in Cornwall, where Davie has used white gouache on black paper to evoke a primal language of stark symbolic imagery.
Davie has a strong connection with Cornwall, where he has had a studio since the late 1950s, and through his friendship with a number of St Ives artists. A major work created at that time, Patrick's Delight 1960, was a tribute to the artist Patrick Heron and will be on show. However, Davie's paintings generally have greater affinity with the Surrealists and painters of the Cobra group. To complement this exhibition, a group of works from the Tate Collection by Max Ernst, Paul Klee, Joan Miro, Pablo Picasso, Henri Matisse and Jackson Pollock are also shown.