Join in on Saturday 22 June as a two-metre-high silver ball will be rolled through the streets of St Ives! This new performance work by artist Allard van Hoorn is based on the 1000-year-old St Ives Feast Day tradition of 'hurling', where a small silver ball is chased through the town as part of the celebrations. Inspired after taking part in February's celebrations, van Hoorn has reimagined the silver ball at a much greater scale, collaborating with local residents to create a unique procession that celebrates the communities of St Ives and their relationship to the town they call home.
Community mirrored in the ball
St Ives residents have contributed to defining the route and movement taken by the giant Silver Ball. This has involved the telling of stories that resonate with the community in the present, past and future. Many of these residents take part in the performance, seeing themselves mirrored in the Silver Ball with their town and community behind them.
Defining the route
The hurling begins in Palemon Best Recreation Ground, home to two community led initiatives, the Community Orchard and SkatePark. Then travels to the mid-point, Ayr Field, which is now a recognised open green space for the people of St Ives, following successful campaigning by locals. Many of the streets along the route have a story to tell, such as the top of Barnoon Hill which marks the edge of the historic fishing community and is a vantage point to The Island and the sea. The harbour, historically the hub of the town, holds special connections to fishing, lifesaving and leisure activities both in and on the water.
For full details of the route, please see below.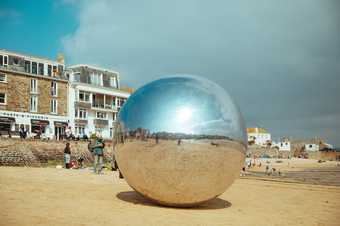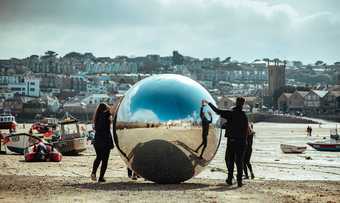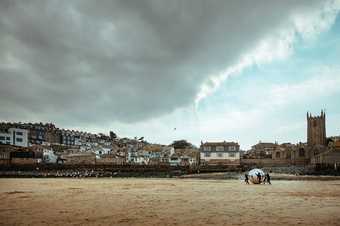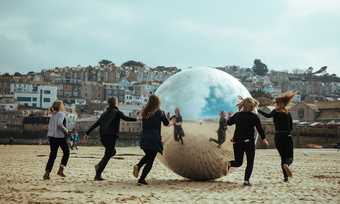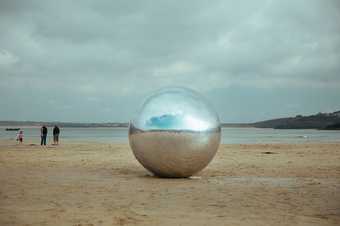 join in
13.00
Meet in Palemon Best Recreation Ground, off Penbeagle Lane. The hurling of the giant Silver Ball begins as it is woken to life in St Ives Community Orchard. From here it journeys across the existing skate park where its movement maps a new concourse, as proposed for the park's redevelopment, for which funds are currently being sought. The ball then rolls down to the big field for a game or two before crossing Penbeagle Lane at approx. 13.25.
13.45
Arriving at Ayr Field, join the ball as it is led by Cornish Guise dancers and band in a serpent dance and take part in games on the field. Ball leaves via Alexandra Road at 14.05.
14.15
The ball crosses the harbour with community members who have a special connection to the sea and gives a secret nod to the Parish Church, where the town's Feast Day hurling ritual begins each year. Continuing along Fish Street, at approx. 14.30.
Approximately 15.00
The ball reaches its final destination in the Loggia, outside Tate St Ives, where the procession culminates with a sound performance created from recordings of its journey from Community Orchard to Tate St Ives.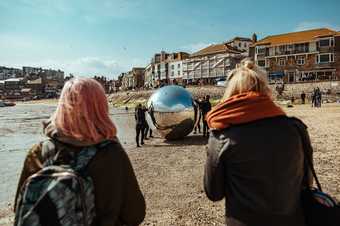 Information
Extracts from the 063 Urban Songline will be available to hear throughout the summer at Tate St Ives. Photography and film from the event will also be on show as part of Allard van Hoorn's display in Gallery 10 at Tate St Ives until 1 September 2019. For information on visiting please check the website.
Refreshments available at Ayr Field, provided by St Ives Scouts.
This event is being documented through photography, filming (including by drone) and / or sound recording. The purpose of this documentation is for non-commercial core purposes such as marketing and media (including social media), research, educational and archival uses by Tate and its partners. In addition, the artist will use the material to create an artwork.
Please be aware that all times are approximate and that parking in St Ives is limited, see our website for advice on getting here.
This event is weather dependant. Please check Tate St Ives social media for updates on the day.

About the artist
Dutch artist Allard van Hoorn (born 1968), creates musical scores and performances for public spaces.
'These performances are a way of connecting to places by listening to them as well as research into how we use and experience the public domain and to what degree we can claim ownership over it, discussing notions of inclusion, becoming and belonging.'


Allard van Hoorn
Throughout February and June 2019 van Hoorn undertook a residency in St Ives as part of the Tate St Ives Artists Programme and in the making of the 63rd iteration of the Urban Songlines project. 'Songlines' are a spiritual system of songs and storytelling relating to land practiced by Aboriginal and Torres Strait Islander people in Australia. Influenced by this tradition, van Hoorn researches and consults with communities around the world to produce Urban Songlines projects. They result in performances, scores or audio recordings, focusing on our relationship to place.
Acknowledgements
With thanks to all the local Players who have made this performance possible and the groups they represent including: Bagas Porthia, Cormac School Crossing Patrol Service, RNLI, St Ives Community Orchard, St Ives Rugby Club, St Ives Scouts & Guides, Salvation Army Youth Club and St Ives Skatepark.
Thanks also to supporters: Cornwall County Council, Devon & Cornwall Police, Porthmeor Studios, St Ives Archive, St Ives Charter Group, St Ives Museum, St Ives Times & Echo, St Ives Town Council, our Tate St Ives Community Liaison Group, St Ives Boat Rides, St Ives Sailing Club and The Co-op and its members.
Special thanks to:
Tim Andrewes, Janet Axten (Bard of Gorsedh Kernow), Joanne Bassett, Dee and Dave Brotherton (Bards of Gorsedh Kernow), Jay Dunstan, Melanie Frankell, Mayor and Mayoress of St Ives - Cllr Tony Harris and Jose Harris, Elise Langley, Dennis Oates Snr & Jnr, Mick Paynter, Michelle Pugh, Mike Ridgeway, Morag Robertson, Neil Scott, Bob Sheridan, Suzanne Tanner, Reverend Nicolas Widdows, Senara Wilson Hodges, Sarah Hall, Andrew Perkins, Robin Langford, Clare Goode, Paul LeBas, Jonny Harvey, Iain Davidson, Heather Britten, Nathan Loxely, Nathan McManus, Peter Brewer, Laurence Eastwood, Chris Bird, David Peters, Helen Johnson, Peny Melmoth (Bard of Gorsedh Kernow), Sian Ford and Simon Ashmore.