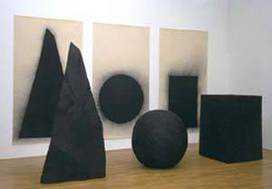 David Nash (born 1945) is internationally renowned for working with wood to form large, dramatic and tactile sculptures. This exhibition highlights the distinctive geometric theme in his work. The exhibition has been designed to create a dynamic interaction between the works and the architecture of the Gallery.
Born in Surrey in 1945, Nash has lived and worked in Blaenau Ffestiniog, North Wales since 1967. He has created a significant and varied body of work in which the relationship between man and nature is a central theme. His artistic ethos has always been one of direct, physical involvement with his chosen material - wood - and the landscape. Since 1967 his sculpture has formed two distinctive groupings; sculptures which connect with the outside, the landscape of making and placements, and works which are presented inside, within and in relation to, architectural environments.
The inorganic, non-allusive sculptures that Nash makes using unseasoned wood are based on the universal geometry of the cube, the sphere and the pyramid. He uses the directions of mark-making to his favoured forms: vertical for the cube, horizontal for the sphere, and diagonal for the pyramid. Although the innate character of the material is taken into account, and allowed to affect the outcome, he never allows it to dictate the sculpture's final identity. Nash even uses burners to char the wood, once again transforming the material through blackening.
The exhibition includes eight major sculptures exploring the sphere, pyramid, cube and column, and a new piece, Sheaves. This is also the premiere of the film Boulder, by Pete Telfer, which includes documentary footage of one of Nash's most significant works of land art Wooden Boulder, begun in 1978. The film charts the passage over 26 years of this large wooden sphere from the interior landscape of North Wales across the Dwyryd Estuary and on into the Atlantic Ocean. In the sea-facing gallery, a 28' high wall drawing has been created by Nash, using large scale sticks of charcoal. In the context of the St Ives school of Modernist artists, this dynamic installation reconsiders Nash's process and philosophy and offers an exciting new dynamic to the presentation of his work.
A catalogue accompanies the exhibition, and includes an essay by art critic Richard Cork and an interview between the artist and Susan Daniel-McElroy, Director of Tate St Ives, that gives new insights into Nash's working processes.
As part of Artists on Artists, three works from the Tate Collection by Alberto Giacometti, who Nash cites as an influence, will be shown alongside the exhibition.