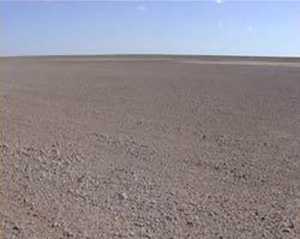 ...it seems that we have an initial response of trying to locate a position; these are the sort of places we can get lost in, there are few, if any, memorable landmarks by which to orientate ourselves.
Mike Marshall, 2002
The beauty of ordinariness and the appeal of understatement are elements running throughout the work of artist Mike Marshall. He examines aspects of our surroundings that might normally be overlooked, and finds within them wonder and interest.
Two works are displayed at opposite ends of the gallery. The first, situated at the entrance and entitled The Earth is Flat 2001, is an inventive and humorous video featuring the artist running towards the horizon in an Egyptian desert reciting jokes from memory. The second, created especially for the café terrace of Tate St Ives is a sound work The Sound of Bombay (a place not unlike this) 2004. It is a recording of ambient sounds from the terrace of a public art gallery in India, the robust sounds of a manic urban Mumbai contrasting with the sea-swept rural idyll of St Ives. Although oceans apart, the sound work opens a portal between them, creating a sense of kinship with these two unused corners of art galleries.
Marshall was born in 1967, and lives and works in London. His work has appeared internationally, understanding and exploring the potential energy of site and moment