Helen Cammock was born in Staffordshire, UK in 1970. She studied at the University of Brighton, and the Royal College of Art, London.
Exhibitions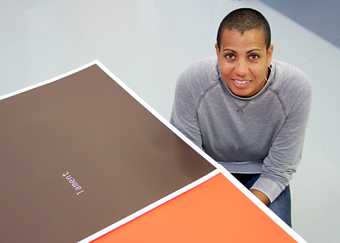 Recent solo exhibitions include: The Long Note, IMMA, Dublin (2019); Shouting In Whispers, Reading Museum (2019); The Long Note, Void Gallery, Derry (2018); Shouting In Whispers, Cubitt Gallery, London (2017); Beyond Words, Bookworks London & Freedom Festival, Hull (2017); There's a Hole in the Sky Part II; Listening to James Baldwin, Serpentine Cinema, London (2016); Transform, Tate Artist Moving Image Screening Programme, Tate Britain, London (2016); There's a Hole in the Sky Part II, Open Source Festival, London (2016); Reach Out and Touch Me, Hollybush Gardens, London (2013); Out of The Archives, The Women's Library London (2009). As winner of the 2018 Max Mara Arts Prize, Cammock has a forthcoming show at Whitechapel Gallery (June 2019).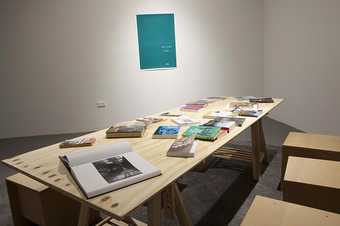 Helen Cammock works across film, photography, print, text and performance. She produces works stemming from a deeply involved research process that explore the complexities of social histories. Central to her practice is the voice: the uncovering of marginalised voices within history, the question of who speaks on behalf of whom and on what terms, as well as how her own voice reflects in different ways on the stories explored in her work.
Cammock's practice is characterised by fragmented, non-linear narratives. Her work makes leaps between different places, times and contexts, forcing viewers to acknowledge complex global relations and the inextricable connection between the individual and society.
Cammock has been nominated for her solo exhibition The Long Note at Void Gallery, Derry (2018) which was subsequently exhibited at Irish Museum of Modern Art, Dublin (2019). Commissioned by Void, The Long Note is a film which explores the history and role of women in the civil rights movement in Derry Londonderry in 1968, a period generally acknowledged to be the starting point of the Troubles - the Northern Ireland conflict that spanned the 1960s through to the Good Friday Agreement of 1998.
The Long Note sets-out to expand and complicate narratives around this period, placing women's voices at the fore. The film weaves together various archive materials, newly produced footage and a series of interviews Cammock made with women active in the movement, as well as those affected by it. Cammock's non-didactic interview style allows her subjects to speak, without heavy editing or direction, presenting a reality which is convoluted and open-ended. A very particular place and moment in time is thus used as a vehicle to reflect upon broader civil rights struggles globally, as well as subtly eluding to the many ways in which these same struggles continue in different forms today.
Helen Cammock is 48 and lives and works in London.